As we push now into 1986 in this blog's chronology, we're moving into an era of retrenchment but also of relative stability, as the battered survivors of the home-computer boom and bust come to realize that, if they're unlikely (at least in the short term) to revolutionize mainstream art and entertainment in the way they had expected, home computers and the games a relatively small proportion of the population enjoy playing on them are also not going to go away. A modest but profitable computer-games industry still remained following the exit of the pundits, would-be visionaries, and venture capitalists, one that would neither grow nor shrink notably for the rest of the decade. No longer fixated on changing the world, developers — even the would-be rock stars at Electronic Arts — just focused on making fun games again for a core audience that loved Dungeons and Dragons, Star Wars and Star Trek, and ships and airplanes with lots of guns on them. While publishers would continue to take a chance on more outré titles than you might expect, much that didn't fit with this core demographic that stuck with gaming after the hype died began now to get discarded.
Amongst the victims of this more conservative approach were bookware and the associated dreams for a new era of interactive popular fiction. Bookware had, to say the least, failed to live up to the hype; the number of commercially successful bookware titles from companies not named Infocom could be counted on one hand and likely still leave plenty of fingers free. Small wonder, as the games themselves were, if often audacious and interesting in conception, usually deeply flawed in execution, done in by a poor grasp of design fundamentals, poor parsers and game engines, rushed development, and an associated tendency to undervalue the importance of playtesting and polishing for any interactive work. One could say with no hyperbole whatsoever that Infocom was the only company of the 1980s that knew how to consistently put out playable, enjoyable, fair text adventures — meaning I've spent a great deal of time and energy in the years I've been writing this blog merely confirming this conventional wisdom, but so be it.
So, bookware faded quietly away, done in both by gamers who were not terribly invested in games as literature and its own consistent quality-control problems; whether better works could have brought the former around, or found a new audience entirely, remains a somewhat open question. One by one the bookware lines came to an end. Telarium never released another game after 1985's Perry Mason and Nine Princes in Amber, although one last game, a mystery called The Scoop which dispensed with the parser entirely, was completed in 1986 but not belatedly released until 1989 under the generic Spinnaker Software label. Bantam's Living Literature line stopped after two titles; the Mindscape/Angelsoft line of book and movie adaptations made it to eight before the plug was pulled following an Indiana Jones game that was as underwhelming as all of the titles that preceded it; other publishers like Epyx abandoned the genre after one or two experiments failed to bear commercial fruit. And the Brøderbund/Synapse Electronic Novels were also not long for this world.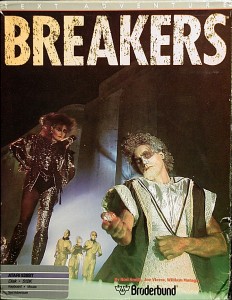 Breakers, written by a friend of the Synapse boys named Rod Smith, was the fourth and last of the Electronic Novels to be released. It's also the largest, most complex, and most difficult — albeit mostly not in a good way. Breakers places you aboard a ramshackle space station in orbit around a planet called, I kid you not, Borg, proof that there's a limited supply of foreboding science-fiction names in the universe. It's somewhat unusual as both science fiction and interactive fiction in being told from the point of view of an alien who's not just your typical Star Trek-style human with different skin pigmentation or unusually formed ears. The Lau, the race to which you belong, are residents of Borg whose culture is mystical rather than technological, who communicate via telekinesis. They're now being punished for their disinterest in warfare by being rounded up and sold off as exotic slaves to customers all over the galaxy by many of the unsavory characters who inhabit the station. Meanwhile a cosmic apocalypse is in the offing which only the Lau can prevent by assembling four elements and performing a ritual. By happenstance, you've ended up loose on the station. You must assemble the elements to save your race and avert the catastrophe; even a text adventure that fancies itself an electronic novel often winds up a treasure hunt.
That said, the Electronic Novels seldom lacked for literary ambition, and Breakers is no exception. Smith does a pretty good job of showing the crazy cast-offs, pirates, and rogues — some with the proverbial hearts of gold, most responding to overtures only with laser blasts — from the standpoint of an apparently asexual and very alien alien. If not quite up to the standard of Lynnea Glasser's recent, lovely interactive fiction Coloratura, it is interesting to view Breakers's stock-science-fiction tropes from this other, exotic point of view; the opening scene in a seedy bar filled with thumping music and humans and aliens of every description is unexpectedly compelling when viewed from the perspective of this protagonist despite being thoroughly derivative of a certain 1977 blockbuster.
All sorts of issues of technology and fundamental design, however, cut against the prospect of enjoying this world. The opening section of the game, inside that seedy bar, is so baffling that a magazine like Questbusters, one of the few with enough remaining interest in the Electronic Novel line to write about Breakers at all, dispensed with any semblance of graduated hints and just printed a walkthrough of the opening sequence — one that, tellingly, appears to rely on a bug, or at least a complete plotting non sequitur, to see it through. Smith had wanted to make Breakers rely heavily upon character interaction, a noble if daunting goal. In practice and in light of the problematic Synapse parser, however, that just leads to a series of impossible dialog puzzles that require you to say the exact right sequence of things to get anywhere. While the plot is unusually intricate, it's essentially — if as-advertised in light of the "Electronic Novel" label — a novel's plot, a series of linear hoops that require you to just slavishly recreate a series of dramatic beats, even when doing so requires that you deliberately get yourself captured and beat up. But, unlike in most linear games, you never know what the game expects next from you, leading to an infuriating exercise not so much in saving Borg as in figuring out what Smith wants to have happen next and how you can force it to take place.
Breakers was released by Brøderbund in a much smaller, much less lavish package than its predecessor, complete with cheesy art that looked cut out of an Ed Wood production. The Synapse name, which studio Brøderbund was now is in the process of winding down as an altogether disappointing acquisition, is entirely absent from the package, as is even the old "Electronic Novel" franchise name, although it remains all over the manual from which it would presumably have been harder to excise. The game is now just a "text adventures" again, a circle closed in somewhat ironic and very telling fashion.
So, Breakers would mark the end of the line for this interesting but frustrating collection. Reports from former Synapse insiders have it that a fifth Electronic Novel, a samurai adventure called Ronin, was effectively complete by the end of 1986, but it was never released. Two more with the intriguing titles of Deadly Summer and House of Changes also had at least some work done on them before Brøderbund pulled the plug on the whole affair. My inner idealist wishes he'd had a chance to play these games; my inner cynic knows they'd likely have been undone by the same litany of flaws that make all of the released Electronic Novels after Mindwheel disappointing to one degree or another.
Completed titles like The Scoop and Ronin which their publishers judged not capable of recouping the additional expense of actually releasing them make for pretty good signifiers of the state of bookware circa 1986. Still, we have a bit more ground to cover before we say our goodbye to this strange era of gaming. Next time we'll look at a final high-profile author/developer collaboration, the last of its kind and the end of an era. In the meantime feel free to download and give Breakers a try; this is the MS-DOS version, and includes a DOSBox configuration that should work very well.