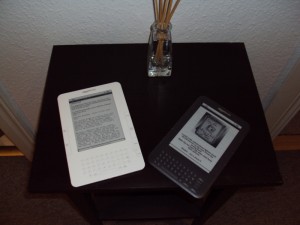 The King of Shreds and Patches is now available for purchase from the Amazon Kindle Store. But what is The King of Shreds and Patches, you ask? Well…
When you receive a note from your old acquaintance John Croft, you expect nothing but an evening of good food and drink and tall tales. Instead, you quickly find yourself plunged into a conspiracy of black magic that involves not only Croft but some of the most powerful and important men in London – and possibly even someone else, someone much closer to your own heart.

The King of Shreds and Patches is truly an interactive novel. Set in a meticulously recreated Elizabethan London, its story and writing can stand proudly beside conventional mysteries and historical thrillers in both length and quality, with one crucial difference: YOU play the protagonist.

A brand new approach to interactive fiction on the Kindle, this experience is deeper and richer than anything you have seen before. Rather than choosing from a few limited options, you will use a natural-language parser to choose from a universe of possibility every step of the way. Simply tell the story what you want to do using simple English, and it will respond with rich prose of its own.

In the process of playing, you will write your very own novel; no two players will have the same experience. And after you have finished your adventure, a process that will likely absorb many hours, your story will remain on your Kindle, to reread and share and compare with others.

Lovers of historical fiction, mysteries, or horror can now experience a story from the inside, while fans of puzzles and adventure games will also find much to enjoy here. Will you be able to thwart the darkness that threatens London?
So, that's the pitch. King represents the first modern, parser-based work of interactive fiction to be released for the Kindle — and the Kindle in turn represents perhaps the most natural platform for IF since, well, ever. I could really use your help to make it a success.
If you haven't played the desktop version of King, or even maybe if you have, I'd of course love for you to buy a copy to play on your Kindle. It's basically the same experience on the Kindle that it was on the desktop, only with the bugs and typos that slipped into previous releases fixed and with a Kindle-ized interface that, in the opinion of myself and Amazon, looks and plays pretty great.
And whether you buy it or not, I could use your help getting the word out. If you play it, a review for Amazon would be very helpful in attracting more eyeballs. If you know someone who is not currently an IF nerd but that has a Kindle and just might enjoy it, please tell them about it. And of course blurbs on blogs, Twitter, etc., are always valuable.
If King does well enough to justify it, I hope to turn my fledgling Antiquarian Productions into a sustained venture for getting IF onto the Kindle. With a reusable engine now working at last (and don't get me started on what a challenge that was), we have the potential to bring out the best of the IF community's work on the Kindle, to reach new people who have never heard of IF but would love it if they did, and to give some long-suffering authors a chance to earn a little money from their work. It's early days yet, and much is uncertain, but the potential seems pretty awesome from where I'm sitting. Won't you help to make it happen?
UPDATE: Quite a few have been asking me about availability on European Kindles. Unfortunately, I don't have any good news for you at this time. Not only King but the entire Kindle app store is currently limited to U.S.-purchased Kindles. My rep at Amazon can't give me any timeline as to when this is likely to change. I'm really sorry about this situation, but there's just not anything I can do about it, other than to pester Amazon from time to time.
Speaking of which: you can of course also write to Amazon and tell them that you're dying to give money for lots of cool Kindle apps, if only they would let you. Maybe it helps.
As soon as I have more news on this topic, I'll post it in the blog.