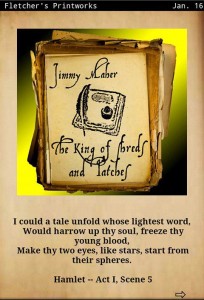 I'm pleased to announce that The King of Shreds and Patches, my novel-length work of interactive fiction, is now available under the Antiquarian Productions for the Kindle Fire and other Android tablets in the Amazon App Store.
I'll be working to make it available in Google Play, which will finally give those outside the United States an opportunity to purchase at least one version of the story. A version for the Barnes and Noble Nook is also in the works. Once those things are accomplished, the die will be cast for rolling out more stories from other authors. I'll let you know here as soon as I have more news on those fronts.
In the meantime, word of mouth is the best sort of marketing there is. So please tell your friends about it, and if you do purchase please think about leaving some feedback in the Amazon App Store in the form of a review.
And hey, thanks so much for all your support and feedback thus far. I love you guys!