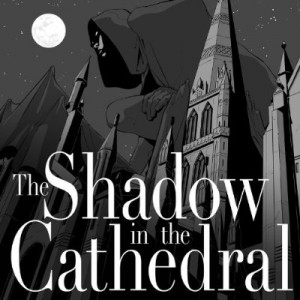 This week saw the release of the Textfyre game The Shadow in the Cathedral for Kindle Keyboard and Touch. It uses the engine that I originally developed for the Kindle version of my own The King of Shreds and Patches, so if you liked that interface you should feel right at home here. The game itself was authored by two of the leading lights in contemporary interactive fiction; it's a good one, well worth your time. Textfyre commissioned some special art for the Kindle version, and it really enhances the experience. Check it out if you're up for a fast-moving steampunk adventure set in a very memorable world.
In other app news, versions of The King of Shreds and Patches for Android tablets (including the Kindle Fire) are now available from both Amazon's App Store and Google Play. A version for the Nook is also available from the Barnes and Noble store.
I have to confess that I kind of made a mess of the Android release. I was completely unprepared for the variety of Android hardware out there (what the kids today call "fragmentation"), and my testing was sadly inadequate. I paid the price with some buggy releases and some (deservedly) nasty reviews. The latest release in all stores, however, is solid. Count it as a lesson learned. I'll do better next time. If you do play one of these versions and would like to contribute a review to the site you bought it from, it would be hugely appreciated.
As for the immediate future: I'm kind of torn between publishing more works by others to these platforms and working on a new title of my own. More news as it develops.