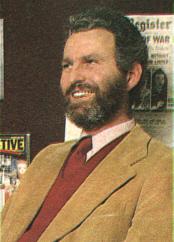 Stu Galley, a man who would come to unabashedly love the games Infocom created, who would author the almost naively idealistic "Implementor's Creed" to describe the job he and his fellow Imps did, took quite a long time to discover his passion. When he first saw the Zork game that some of the other hackers in MIT's Dynamic Modeling Group had created, he thought it clever but little else. He had no interest in fantasy fiction or Dungeons and Dragons, and no particular interest in exploring beyond Zork's first few rooms. Some of his disinterest may have been generational. Already in his mid-thirties when Zork was begun, he was five to ten years older than the people who made it. That's not a huge gap, but it was enough to place him at a somewhat different stage of life, one where such idle amusements might not have quite so much appeal in light of his wife and young son.
When asked to become a founder of Infocom, he signed on because he had a lot of respect for the talents of the others. He thought they just might come up with something — who knew what? — really great, and he didn't want to be kicking himself over the lost opportunity in five years. During this early period Galley, like most of the founders, did this or that for the company as time and inclination allowed, but kept it very much ancillary to his main working life. His official role at Infocom was to serve as treasurer. He also pitched in to help with odd jobs here and there: an experienced technical writer, he wrote the original manual for the commercial Zork, and helped Mike Dornbrook to set up and administer the mailing list that would morph into The Zork Users Group. But he mostly remained on the periphery, not quite ready to commit too much energy to the venture. Then came an epiphany.
Very early in 1982 Galley agreed to another of those odd jobs: to do some testing on Marc Blank's new mystery, Deadline. Galley was blown away by the game for much the same reason it would soon cause a sensation in the world of adventure gaming in general. He still recalls vividly today how, when exploring the Robner house for the first time, he heard a phone ring in the other room but missed the call. Restarting, he made sure to be near a phone when the time came, and heard Mrs. Robner having a clipped conversation with her lover. That "blew his mind." Here was a realistic, dynamic world to inhabit, one which struck him as far more interesting than the vast, empty dungeon of Zork with its static, arbitrary puzzles. "I could relive this story over and over and eventually, by looking at it from different angles and connecting the dots, find out what was really going on." Galley was hooked at last.
In light of Deadline's commercial success, another mystery was obviously warranted. With some input from Dave Lebling, Blank began sketching out plans for a sequel almost immediately. He already had a clever gimmick in mind: the player would be invited to his home by the victim, where she would actually witness the murder in the opening scenes of the game. Nevertheless, it still wouldn't be clear who was actually responsible. Unfortunately, Blank was absolutely swamped with other work: putting together Zork III, helping Mike Berlyn get up to speed on ZIL and ensuring he had the tools he needed for the game that would become Suspended, doing an ever-escalating series of interviews and PR junkets, sorting out business issues with the board. The game, to be called Invitation to Murder, remained only an outline of a few typewritten pages into the fall. That's when it occurred to Blank, who was forever looking for ways to cajole his fellow founders into taking a more active role, to offer the outline to Galley, who still had stars in his eyes over his Deadline experience. Galley quickly agreed, and in October of 1982, while still only moonlighting at Infocom, started to work.
Working from a stripped-down skeleton of the original Deadline code, Galley gradually built a playable game over the next few months. Along the way, the project had one of the effects for which Blank had hoped: Galley was so inspired by the new work that he quit MIT and came to Infocom full-time before the year was out. In late January Infocom sat down with their ever-supportive advertising agency of G/R Copy to discuss the upcoming game. Just as they had with Deadline, G/R quickly replaced the original title with something much more punchy and direct: simply The Witness. Both Mike Berlyn and G/R also suggested that the time period and the tone be changed. They suggested that, rather than the ostensible present of Deadline, Galley move the game to the golden age of mystery, the 1930s. In retrospect this was a natural change. As I noted when writing about Deadline, that game felt like a product of the golden age anyway; The Witness would merely make it official. If anything the more important suggestion was to change the style to differentiate the new game from Deadline. If Deadline was a cozy mystery in the tradition of Agatha Christie, The Witness could be Raymond Chandler or Dashiell Hammett, a hardboiled tale of noirish intrigue.
Galley didn't have much experience with this branch of the mystery canon, but, as he later put it, as soon as he started to read The Big Sleep he was convinced. Instead of the stately, blue-blooded Connecticut of Deadline, The Witness would take place in 1938 Los Angeles, at the peak of pre-war Hollywood's loose glamor and danger. Galley lost himself in period research. In addition to the classic crime fiction of the period, he drew from a Sears catalog and other advertisements from the era, a 1937 encyclopedia, and The Dictionary of American Slang (to get the characters' language right). He went so far as to track down a radio schedule for February 18, 1938, the evening of the crime, and make sure that the radio inside the house played the correct program from minute to minute.
In the tradition of Deadline, the packaging of The Witness would be a major part of the experience. Accordingly, Infocom began working with G/R on it months before the game's projected release. Already back when outlining the game Blank had proposed including a newspaper with articles giving background information on the victim and the suspects, another direct lift from the old Dennis Wheatley crime dossiers (a fold-out newspaper had been the showstopping centerpiece of Who Killed Robert Prentice?). With the newfound historical context, G/R now ran with the idea to create one of the most impressive feelies Infocom would ever release. They found a newspaper in the Los Angeles area, The Register of Santa Ana, who agreed to share several editions from the period on microfiche. They then had the whole thing typeset once again, with a couple of new, game-specific articles slyly inserted. As Galley later noted, some of the real stories from the newspaper ("Fear Lost Boy Victim of Cougar"; "Works Many Years with Broken Neck"; "Pajama 'Parade' Results as Toy Catches on Fire") were more bizarre than anything they could have come up with on their own. Printed on perfectly yellowed cheap newsprint, the final result is a triumph.














G/R contacted Western Union for help recreating a telegram from the period. Galley and G/R, who clearly had a great deal of fun with this project, scoured old magazines and catalogs for advertisements to include in the faux-detective magazine that serves as the manual. G/R was even able to get some of their other clients, such as American Optical, to loan their old adverts to the effort.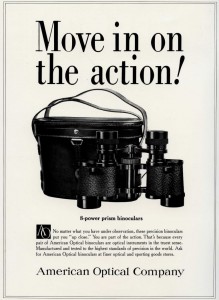 For the obligatory physical prop, the equivalent to the pills included in the Deadline package, they added a matchbook with a cryptic phone number scrawled on the inside. Taken all together, The Witness outclasses even Deadline in its packaging. It's almost enough to make the actual game it's supporting feel just a bit underwhelming in comparison.
It's not that there's anything dramatically wrong with The Witness, just that after such a build-up the actual case at its heart is maybe not quite so intriguing as one might wish. The solution, when you uncover it, is thoroughly absurd, not at all unusual in this genre, but not ultimately all that interesting in spite of its absurdity. Perhaps the biggest problem is that there just aren't enough suspects nor enough juicy secrets to be discovered about them. There are only three possible murderers, and one of those has been caught red-handed fleeing from the crime scene — which, as anyone who's ever read a mystery novel should know, pretty much rules him out from get-go. Combined with the smallest map of any Infocom game to date — some 30 rooms, most of them empty and unnecessary to even visit — that's likely to leave one rather nonplussed at the end, asking, "Is that really it?" It's certainly one of the shortest games Infocom would ever release.
But that was more of a problem in 1983, when people were spending $30 or $40 to buy The Witness, than it is today, when we can enjoy it on its own terms. And in that spirit there's a lot to recommend it. Although its case is not so intriguing, I actually found The Witness to be a better, more satisfying experience than Deadline was when my wife and I recently played it, for the simple reason that it's fair. It's blessedly solvable with some careful thought and attention, without needing to do anything absurd like DIG for no apparent reason. When we apprehended the killer, sans any hints at all, it was a great feeling, a testament to Infocom's evolving design craft and the increasing involvement by this point of the in-house and out-of-house testers, who were now shaking down the designs and providing vital reality checks to the Imps. If anything, some might consider The Witness too easy, but that's always been a more forgivable sin than the alternative of hardness-through-unfairness in my book.
Galley, who had never written a word of fiction before starting on The Witness, does a pretty good job with it here. The opening lines leave no doubt about the genre we're in for:
Somewhere near Los Angeles. A cold Friday evening in February 1938. In this climate, cold is anywhere below about fifty degrees. Storm clouds are swimming across the sky, their bottoms glowing faintly from the city lights in the distance. A search light pans slowly under the clouds, heralding another film premiere. The air seems expectant, waiting for the rain to begin, like a cat waiting for the ineffable moment to ambush.
The constrained geography and relative paucity of interactable objects have the positive side effect of giving more space for exposition. The opening stages of the game in particular, before you witness the murder that really kicks off the case in earnest, are surprisingly florid, in a way that no previous Infocom game had been. It's little surprise that so many tended to latch onto The Witness even more than Deadline as a harbinger of a new type of literature.
Still, The Witness's historical reputation has always suffered in comparison to that of Deadline, likely the inevitable result of being the follow-up to such a great, audacious leap. For another likely reason for its less than stellar ranking in the Infocom canon today we can look again to those wonderful feelies, which were both such an important part of the experience and, in the case of the newspaper, almost uniquely hard to recreate in a PDF document or the like. To the extent that these factors may blind people to The Witness's real merits — it's not a masterpiece, but it is a solid piece of craftsmanship — that's a shame.
Deadline also somewhat overshadowed The Witness on the sales charts. Release in June of 1983, The Witness sold a little over 25,000 copies before the end of the year, then some 35,000 the next, oddly failing to keep pace even when quite new with the older Deadline. Still, those numbers were more than enough to make it profitable for Infocom. And for anyone looking to get started with the Infocom mysteries today just for fun (as opposed to historical research), it's definitely the one I'd recommend you play.