I've personally never found detailed accounts of other people's experiences in videogames all that compelling. Like a Chris Farley interview, they mostly tend to end up as all anecdote and little narrative substance. I've therefore shied away from that approach for this blog. I do, however, want to examine Zork in some depth, and in a way that goes beyond just a review. So, I thought I would write these posts as a sort of guided tour of the game. You can just read along and get a pretty good idea of the experience of a player, or if you're more ambitious you can play along with me. I do spoil some puzzles, but pretty much only the bad ones, so this might even make a nice way to experience the game, pitched somewhere between going it completely alone and just typing from a walkthrough. The approach is inspired by the old Computer Gaming World articles of Scorpia.
Infocom took their dedication to quality to extremes almost unheard of amongst game developers of their era. Zork was updated about a dozen separate times between 1980 and 1984, to add polish and/or to fix bugs. When players tackle it today, they naturally tend to end up playing the final, definitive version that is the most widely distributed today. For this project, however, I wanted to see the game the way players originally would have. This playthrough is therefore based on what I believe to be its first release on the Apple II, the platform where it first achieved widespread popularity.
There's some question as to whether the Zork games should be considered freely distributable or not. Activision, the company that owns the Infocom intellectual property, released them for free some 15 years ago as part of a promotional campaign for the graphic adventure Zork: Grand Inquisitor, but there's room for debate about whether they really meant that to be a permanent, free forevermore sort of thing or just a limited window of opportunity. Such questions are a bit more than academic because, despite not having done much with the Infocom games in some 15 years, there are signs that Activision still regards them as having some value, unlike other games of their era that I haven't hesitated to make available on this site. Still, Infocom fan pages have been hosting the Zork games for years with no apparent repercussions. Because of that, and because I'd really like for anyone who wants to follow along with what follows to have access to the same older version of Zork that I'm using, I'm going to make it available here, as either an Apple II disk image (for the ultimate retro-experience) or a standalone story file you can load into a modern interpreter. Or you can even play it right in your browser.
But not, I'm embarrassed to have to say, my own Filfre. This is what's known as a version 2 story file, a very early standard that Infocom soon updated to version 3, a standard they stayed with for many games thereafter. Because the early Zorks were quickly replaced by their version 3 counterparts, I never got around to adding support for earlier versions, seeing these as of only historical interest. Ah, the irony bites deep… I really need to get on that. Anyway, Frotz will do you just fine in the meantime, as will plenty of others.
When we first boot Zork on our trusty Apple II, we're greeted with one of the most famous openings in gaming history, the white house with the mailbox.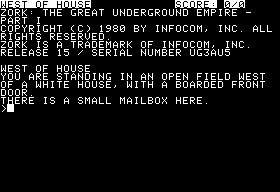 You'll notice that the screenshot above and the transcript excerpts that follow are written in ALL CAPS. The Z-Machine specification supported lower case right from the beginning, but, rather shockingly, the Apple II's standard display hardware still did not at this stage. (Lower case did not become a standard feature on the Apple II until the release of the IIe in 1983.) Thus the interpreter has to translate the text into capitals for output. I've preserved this in the interest of giving the full, authentic experience; I hope it's not too annoying.
Inside the mailbox is a leaflet.
>READ LEAFLET
WELCOME TO ZORK
ZORK IS A GAME OF ADVENTURE,
DANGER, AND LOW CUNNING. IN IT YOU WILL
EXPLORE SOME OF THE MOST AMAZING
TERRITORY EVER SEEN BY MORTALS.
NO COMPUTER SHOULD BE WITHOUT ONE!
THE ORIGINAL ZORK WAS CREATED BY TIM
ANDERSON, MARC BLANK, BRUCE DANIELS, AND
DAVE LEBLING. IT WAS INSPIRED BY THE
ADVENTURE GAME OF CROWTHER AND WOODS.
THIS VERSION WAS CREATED BY MARC BLANK,
DAVE LEBLING, JOEL BEREZ, AND SCOTT
CUTLER.
(C) COPYRIGHT 1979 & 1980 INFOCOM,
INC. ALL RIGHTS RESERVED.
Interestingly, this specific acknowledgment of the debt Zork owes to Adventure would go away in later releases. But then we don't need the leaflet to make us aware of that debt. As I stated in a previous post, the similarity of Zork and Adventure, particularly the opening sections of each, is pronounced enough that the former can almost seem a remake of the latter. In Zork the white house ("A BEAUTIFUL COLONIAL") stands in for Adventure's well house, but there's still plenty of difficult-to-map forest surrounding it.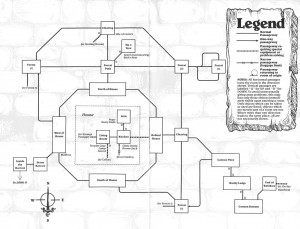 As we explore, you might want to expand the map above and those that follow in another window to help you to follow along.
In keeping with a general theme of doing Adventure better than Adventure itself, Zork's above-ground area does have a bit more of interest to offer. Up a tree we find a jewel-encrusted egg, the first of 19 treasures we will need to collect to win. (Personal Software's promotional copy, which talked about the "20 treasures of Zork," didn't even get this figure right.)
>U
UP A TREE
YOU ARE ABOUT 10 FEET ABOVE THE GROUND
NESTLED AMONG SOME LARGE BRANCHES. THE
NEAREST BRANCH ABOVE YOU IS ABOVE YOUR
REACH.
BESIDE YOU ON THE BRANCH IS A SMALL
BIRD'S NEST.
IN THE BIRD'S NEST IS A LARGE EGG
ENCRUSTED WITH PRECIOUS JEWELS,
APPARENTLY SCAVENGED SOMEWHERE BY A
CHILDLESS SONGBIRD. THE EGG IS COVERED
WITH FINE GOLD INLAY, AND ORNAMENTED IN
LAPIS LAZULI AND MOTHER-OF-PEARL. UNLIKE
MOST EGGS, THIS ONE IS HINGED AND HAS A
DELICATE LOOKING CLASP HOLDING IT
CLOSED. THE EGG APPEARS EXTREMELY
FRAGILE.
The egg is also the key part of one of the cruelest puzzles; more on that much later.
The egg illustrates an aspect of Zork that can be somewhat jarring, even comical. Most of the environment is described very tersely indeed, as was typical in games of this era ("THIS IS A DIMLY LIT FOREST, WITH LARGE TREES ALL AROUND.") Yet every once in a while, as with the egg shown above, the implementors relax and indulge their literary sensibilities a bit. The effect when playing is surprisingly akin to triggering a cut scene in a modern game. Here's another of those moments from the outdoors, the "CANYON VIEW."
CANYON VIEW
YOU ARE AT THE TOP OF THE GREAT CANYON
ON ITS WEST WALL. FROM HERE THERE IS A
MARVELOUS VIEW OF THE CANYON AND PARTS
OF THE FRIGID RIVER UPSTREAM. ACROSS THE
CANYON, THE WALLS OF THE WHITE CLIFFS
JOIN THE MIGHTY RAMPARTS OF THE FLATHEAD
MOUNTAINS TO THE EAST. FOLLOWING THE
CANYON UPSTREAM TO THE NORTH, ARAGAIN
FALLS MAY BE SEEN, COMPLETE WITH
RAINBOW. THE MIGHTY FRIGID RIVER FLOWS
OUT FROM A GREAT DARK CAVERN. TO THE
WEST AND SOUTH CAN BE SEEN AN IMMENSE
FOREST, STRETCHING FOR MILES AROUND. A
PATH LEADS NORTHWEST. IT IS POSSIBLE TO
CLIMB DOWN INTO THE CANYON FROM HERE.
Woods created some of the same effect in Adventure as well, most notably with the "BREATH-TAKING VIEW," but in Zork these "cut scenes" come much more frequently.
There's not a whole lot more we can do outside at the moment, so we'll make our way into the house. Going up into its attic brings what may just be the best remembered Infocom trope of all: the grue.
KITCHEN
>U
IT IS PITCH BLACK. YOU ARE LIKELY TO BE
EATEN BY A GRUE.
"Grue" is tossed out from time as the name of a monster ("man, ocular bat, the unusual hoon") in the Dying Earth story cycle of fantasy and science-fiction writer Jack Vance. However, it's never really described as anything more than something the characters apparently find very frightening. Lebling, who like Gary Gygax of Dungeons and Dragons fame was a big fan of Vance, borrowed the name and the general idea of a mysterious creature that haunts the dark as a solution to a design problem. Trying to move around or do much of anything in the dark in Adventure would lead the player to fall into a pit in the cave and die. Lebling wanted the same mechanic in Zork, but had the problem that such a death was not always realistic in that game's more diverse environment; the attic of the house, for instance, was presumably not riddled with sinkholes like the surface of a cave might be. The grue provided a handy, one-size-fits-all solution for any conceivable dark area. In the first build after the grue was added to the PDP-10 Zork, the U.S. News and Dungeon Report that was always kept in the white house mentioned that Bruce Daniels had spent weeks wandering around the underground filling in all of the pits.
Despite its very practical origins, the idea of a deadly slavering creature that no one has ever actually seen — grues die instantly if exposed to light — was immensely appealing to Infocom as both horror and comedy. There's an almost mythical quality to the grue, as of the unknown monster that every child is convinced lurks under her bed. Grues make appearances in virtually all of their early games, and still live on today in hacker culture — even if one sometimes wishes they wouldn't, as most of the grue jokes that crop up when one mentions text adventures in the wrong company were stale 25 years ago. You can decide for yourself whether MC Frontalot's homage belongs in this category. (Personally, I'm more a fan of "The Pr0n Song.") One final strange fact: my Firefox spell checker knows "grue," but doesn't know "Zork."
Like Adventure's well house, the white house will serve as a de facto staging area for our underground explorations, as well as the place where we collect our treasures. Zork's trophy case makes this purpose even more explicit.
>W
LIVING ROOM
YOU ARE IN THE LIVING ROOM. THERE IS A
DOOR TO THE EAST, A WOODEN DOOR WITH
STRANGE GOTHIC LETTERING TO THE WEST,
WHICH APPEARS TO BE NAILED SHUT, A
TROPHY CASE, AND A LARGE ORIENTAL RUG IN
THE CENTER OF THE ROOM.
ABOVE THE TROPHY CASE HANGS AN ELVISH
SWORD OF GREAT ANTIQUITY.
A BATTERY-POWERED BRASS LANTERN IS ON
THE TROPHY CASE.

The entrance to the underground in Adventure, you may remember, was through a grate set into the ground in the forest. Zork has a similar grate, but it serves only as an homage to its inspiration and a red herring; the real entrance is right here in the living room, beneath the rug.
>MOVE RUG
WITH A GREAT EFFORT, THE RUG IS MOVED TO
ONE SIDE OF THE ROOM. WITH THE RUG
MOVED, THE DUSTY COVER OF A CLOSED
TRAP-DOOR APPEARS.
>EXAMINE WOODEN DOOR
THE ENGRAVINGS TRANSLATE TO 'THIS SPACE
INTENTIONALLY LEFT BLANK.'
>OPEN TRAP-DOOR
THE DOOR RELUCTANTLY OPENS TO REVEAL A
RICKETY STAIRCASE DESCENDING INTO
DARKNESS.
>D
THE TRAP DOOR CRASHES SHUT, AND YOU HEAR
SOMEONE BARRING IT.
IT IS PITCH BLACK. YOU ARE LIKELY TO BE
EATEN BY A GRUE.
YOUR SWORD IS GLOWING WITH A FAINT BLUE
GLOW.
And so we are underground. We'll continue our explorations there next time.