You may have noticed that I haven't heretofore said much about what the ultimate goal of Ultima is, beyond collecting gems and statistics. That's because for the most part the game hasn't said much about it either; all we know is that it's something to do with a time machine. After drinking in a pub, it all finally comes out in an infodump that is downright epic by this game's standards, as well as amusing for the way that Garriott gradually drops the fiction of the bartender entirely to just tell us directly how it is.
BUB, YOU SHOULD KNOW THAT OVER 1000 YEARS AGO MONDAIN THE WIZARD CREATED AN EVIL GEM. WITH THIS GEM, HE IS IMMORTAL AND CANNOT BE DEFEATED. THE QUEST OF ULTIMA IS TO TRAVERSE THE LANDS IN SEARCH OF A TIME MACHINE. UPON FINDING SUCH A DEVICE, YOU SHOULD GO BACK IN TIME TO THE DAYS BEFORE MONDAIN CREATED THE EVIL GEM AND DESTROY HIM BEFORE IT'S [sic] CREATION. IF YOU DO THIS, YOU WILL SAVE THE UNIVERSE AND WIN THE GAME!!!
Doing this would of course introduce a veritable moebius strip of paradoxes. Nor does the land feel particularly oppressed at the moment. Granted, there are roving bands of monsters everywhere, but, hey, I'm in a CRPG, and anyway they're mostly bears and giant squids and that sort of thing, not really your typical evil minions. I've yet to see Mondain or his minions at all, and the kings all seem benevolent enough if we are willing to overlook the princesses they have locked up in their dungeons. And hey, who hasn't had a princess or two locked up in their dungeon at one time or another? Still, we have our quest. Time to get on with it.
We also learn some other things in the pub:
BUB, YOU SHOULD KNOW ABOUT SPACE TRAVEL! AND THAT YOU MUST DESTROY AT LEAST 20 ENEMY VESSELS TO BECOME AN ACE!

BUB, YOU SHOULD KNOW THAT THE PRINCESS WILL GIVE GREAT REWARD TO THE ONE WHO SAVES HER, AND AN EXTRA GIFT IF THE PLAYER IS 8TH LEVEL OR GREATER!
Reading between the lines here, we need to reach 8th level (already done), become a space ace (?), and then rescue yet another princess. So, what the hell… we buy a space shuttle, and park it next to the "air car" we've had for a while now, a vehicle that looks suspiciously like Luke Skywalker's landspeeder.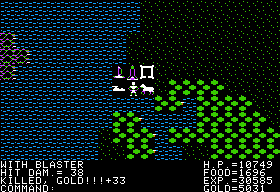 Okay, what is going on here? In Garriott's own words:
The earliest Ultimas really were an amalgamation of everything I thought was cool in the few books that I'd read, the many movies I'd seen, and the few other games that I'd played — all thrown into one game. It was pretty much anything goes.
So, D&D and fantasy in general were cool. In they went. Star Wars was cool. In it went. Garriott's astronaut father was soon to fly into space again aboard the space shuttle, and that was really cool. In it went. In addition to all of the pop-culture influences, these early Ultima games are filled with Garriott's family, friends, and acquaintances — and of course Garriott himself in the person of not only Lord British but also his normal SCA character, the more understated ranger Shamino. When some scholar of the future studying this pioneer of ludic narrative creates an Annotated Ultima, she'll have a goldmine of references to illuminate.
But as for us, we're going into space now to try to become a space ace. The space parts of Ultima introduce a whole new sub-game, added by Richard out of a self-proclaimed desire to pack as much onto its two disk sides as he possibly could. Obviously editing was not, at this stage at least, Garriott's strong suit. That said, the space game is more complex and satisfying than one might expect, if as limited in its potential for fast action as one might expect given its BASIC implementation. Our first task is to safely dock our shuttle — which for some reason no longer looks quite so much like the NASA space shuttle as it did on the ground — to a space station.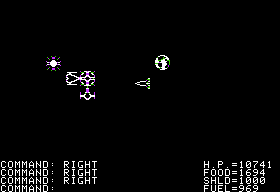 With that accomplished, we can choose a more combat-appropriate vessel and begin to hyperjump from sector to sector on the trail of enemy ships. We do need to keep an eye on our fuel supplies whilst doing so, returning from time to time to a station to top off. And exactly how does this relate to Mondain? Sigh… I really don't know. I suppose it's possible that the enemy ships belong to his forces — although they look, inevitably, like TIE fighters.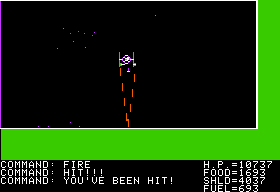 So, we finally shoot down our 20th TIE fighter and return to Sosaria as a space ace, primed for the climax. We dutifully rescue our umpteenth princess. This time she tells us about a time machine "far to the northwest."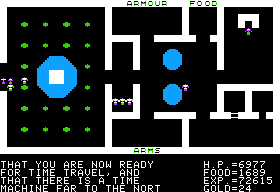 We go there in our trusty landspeeder…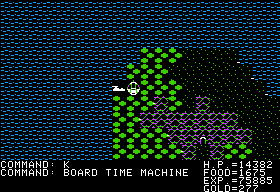 We activate the time machine, a process described with another unusually long string of text:
UPON ENTERING THE CRAFT, YOU FIND FOUR HOLES MARKED R, G, B, AND W. YOU PLACE THE PROPER GEMS IN EACH. YOU SEE A BUTTON MARKED LAUNCH. FURTHER EXAMINATION LEADS YOU TO NOTICE THAT YOU ARE LOCKED IN… NOTHING TO DO BUT LAUNCH?!?!

AFTER ONLY A FEW MOMENTS, YOU FEEL A STRONG MAGIC PULLING YOU FROM THE CRAFT. A MOMENT LATER…

…YOU FIND YOURSELF FACE TO FACE WITH MONDAIN HIMSELF. GOOD LUCK, THIS IS IT!
And the final showdown begins…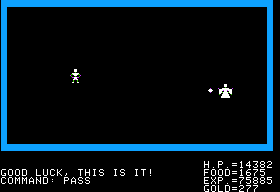 There's actually a somewhat unfair trick to this final battle, the only such in the entire game. We can pound on Mondain endlessly — by this point he's really not that dangerous to us — but he will keep coming back to life on us. We need to move over to that little ball sitting next to him, which represents his "EVIL GEM," and pick it up using a command, G for "Get," that we've never had occasion to use in the entire game to this point. This is all somewhat at odds with what Garriott — I mean, the bartender — told us was supposed to be happening here. We were supposed to be traveling back to a time before Mondain made the gem, not taking it from him and destroying it. Ah, well. We finally figure out what the game expects of us, and prevail at last. It all ends with a message that would become another of the Ultima series's trademarks, albeit later games would ask us to report our victory to Lord British directly rather than his flunkies at California Pacific.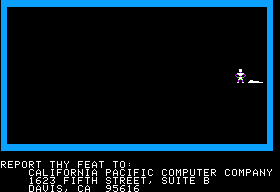 I've spent quite a lot of time in these posts poking fun at Ultima. At times it's kind of hard not to; the game plays like exactly what it is, a catalog of one particularly bright nerd's rather typically nerdy interests, circa 1981. Yet that's also exactly what gives the game its charm as well as its time-capsule quality. I'm sure a few of us were similar kids once upon a time, and hopefully we won't ever completely outgrow our sensawunda. There's an openhearted quality about Ultima; it wouldn't know irony if it walked up and bashed it for 1000 hit points. Yes, that makes it easy to make fun of, but that also makes it kind of lovable. And I'd be remiss not to point out that, in an era rife with horribly designed adventure games, Ultima is, that one misstep at the end aside, remarkably fair. If Zork hates its player, Ultima just wants us to have a good time, and it's willing to throw in everything up to and including the proverbial kitchen sink to make sure that happens. "And hey, there's a princess to rescue, and a spaceship to fly, and these really cool monsters to fight, and the dungeons are in, like, 3D…" God bless its innocence.
Ultima's charms were rewarded with some very impressive sales by the standards of the still small entertainment software market: 20,000 copies sold in its first year. Still, Garriott, who had led a charmed existence thus far, was about to run into his first real complications.
But next time: something a bit less innocent than Ultima.