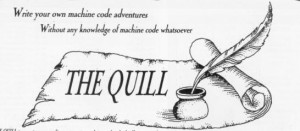 Let's begin today by stepping back in time to the dawn of the PC era (and the early days of this blog): 1978. The debut of Scott Adams's Adventureland that year also marked the debut of the world's first reuseable adventure-gaming engine, in which a single interpreter program runs a variety of different games by being fed different databases. And reuse the system Adams did, to the tune of six titles released in 1979 alone, while the rest of the computing world set to work figuring out how the system was put together. Two TRS-80 hackers, Allan Moluf and Bruce Hanson, were particularly dedicated. By January of 1980 they were distributing to select buddies a text file which described Adams's database format in careful detail along with a set of utilities for examining existing games. By 1981 they had written the Adventure Executor, a new interpreter capable of playing any of Adams's games; just provide it with the database file. And their efforts culminated at the end of that year in The Adventure System, a complete authoring package that let you create new games in the Scott Adams database format as well as dissect existing ones to your heart's content for the low, low price of $40.
For various reasons, starting with the TRS-80 platform on which it ran being rather isolated from the rest of the computing world and ending with the small print that demanded a $200 license fee to use The Adventure System to create commercial adventures, it never caught on. Moluf and Hanson, however, were not alone in their inquisitiveness. Others across the pond were also looking hard at the Scott Adams games. Their efforts would have much more lasting repercussions.
During the earliest days of personal computing in Britain, when practitioners consisted of just a few tens of thousands of soldering-iron-wielding dreamers, one Ken Reed managed to get hold of an imported TRS-80 along with some of the Scott Adams games. Like Moluf and Hanson, Reed was as interested in figuring out how they worked as he was in playing them. He doggedly pulled the system apart, and published his findings in the August 1980 Practical Computing magazine, the nearest equivalent British hobbyists had to the American hackers' favorite Byte. Reed's article wasn't so obviously practical as the work of Moluf and Hanson. It didn't provide exact specifications of the Scott Adams database format, nor tools for hacking on the games, nor even a complete original game or a complete interpreter for running a game. No, it provided something that in the long run would prove to be much more empowering: a detailed proposal for making an engine similar to Adams's for yourself, complete with pseudo-code listings that could be applied to virtually any platform you had handy and knew how to program.
The impact the article had on British gaming over the following decade can hardly be overstated. Richard Turner and Chris Thornton, two university students, formed Artic Computing and used the article as the basis for their own line of Adams-like adventures that began with Planet of Death, likely the first commercial text adventure written in Britain, in June of 1981. Many variations on the article's approach were soon appearing in other games. But its most important descendent was not a standalone game at all but a complete adventure-writing system similar in spirit to The Adventure System. This system, however, got several things right that the older system had gotten so wrong. It was called The Quill, and it was the brainchild of a Welshman in his late twenties named Graeme Yeandle.
When Yeandle analyzed those early Artic games and found them to be put together in a way suspiciously similar to Reed's system, his first reaction was to think that he could do that just as well as Turner and Thornton. He went so far as to write to Artic to offer his services, but never got a reply to his letter. Whilst messing about with adventure-game databases and interpreters on his new Spectrum, he noticed an advertisement for a local publisher called Gilsoft, located just twelve miles from his Cardiff home — in fact, in the town where he had been born, Barry. He decided to pay their office a visit. On doing so, he learned that "they" were a single teenager named Tim Gilberts, and the "office" was Gilberts's bedroom in the family home. Still, Gilberts was bright and ambitious, and the two hit it off. (Gilberts thought Yeandle "looked just like Clive Sinclair.") When Yeandle told him about his adventure-game experiments, Gilberts encouraged him to make a real game for him to market. He ended up writing two, Time-Line and Magic Castle, which Gilberts sold through modest classified ads in the magazines for £5 each (the former, the smaller and simpler of the pair, as the companion to another game on the same tape).
About this time Yeandle realized, like many a programmer before him, that he could save a great deal of time in the long run if he spent some time now improving his development tools. While he was using a variation of the design scheme from Reed's article, he was still constructing the database files laboriously by hand. He discussed with Gilberts his idea for a menu-driven data-entry system to automate the process. If it worked out it could become a sort of house adventure-authoring system which Gilberts could share with other prospective authors. Gilberts enthusiastically agreed, and Yeandle spent most of his nights and weekends during 1983 — this was still very much a sideline; he was employed full-time as a systems analyst — working on what would become The Quill. As the program grew more refined, Gilberts made a new proposal: instead of just using it in-house to make more adventures, why not sell it as a product in its own right, and open adventure authorship to anyone with a Speccy? And so was the adventure-game scene in Britain changed forever.
The Quill was greeted rapturously when it debuted just in time for the 1983 Christmas season. Micro-Adventurer magazine, which appropriately enough debuted at almost the same instant, called it a "revolution" in their very first issue: "Once in a while, a product comes along to revolutionize the whole microcomputer scene. The Quill is one such, and will change the face of the microcomputer adventure." The Quill sold for just £15, and — and this is absolutely key to everything that followed — Gilsoft asked for no cash royalty for commercial works created with it, only that you insert a little "Made with The Quill!" blurb somewhere in the final work. Most other commercial systems for creating adventure and CRPG games, both before and after The Quill, didn't offer such convenient terms, sharply limiting their appeal.
Sales were so brisk that Gilsoft soon gave up bothering to sell much of anything else; Gilberts was more than content to run the house that The Quill had built. Within weeks of its release so-called "Quilled adventures" were everywhere. By a year or so after that at least half of the adventures on the British market were Quilled — and that's not even considering all of the less ambitious creators who just toyed around making games for family and friends, or released their games for free into public-domain channels.
About a year after The Quill, Gilsoft released The Illustrator, which let users add graphics to their games. It ended up selling almost as well as The Quill itself, and soon the requisite illustrated Quilled games were flooding the market. Gilsoft also funded ports of the system to most of the other viable British platforms, although sadly there was no easy way of moving an adventure database created on, say, a Spectrum to the BBC Micro or Commodore 64 short of reentering the whole by hand. As the system spread across Europe, now catching onto the PC revolution at last, countless souls used it to create games in their native languages.
Many of the earliest adventures in German, French, Dutch, Spanish, Italian, and the Scandinavian and Eastern European languages were Quilled. An attempt was also made to market The Quill in North America as The Adventure Writer, but without much success. It was entrusted there to a tiny company called Codewriter who lacked the resources to make it known and widely distributed in that more intimidating and elitist marketplace. And so, like so much else in the bifurcated computing culture of the 1980s, The Quill remained an exclusively European phenomenon.
Given the sorts of tools available to adventure writers today, The Quill is bound to seem underwhelming when we load it up on our Speccy emulator. One doesn't really program a game at all using The Quill; one simply enters its data, menu by menu, filling in its rooms, its objects, its text. The logic available to the author is hard-coded into the interpreter, and not very complex at that. Nor is the process of creation a very intuitive one. It's very difficult to get any sense of the big picture from all of these granular menu views. One is best served by planning one's game out entirely on paper, using The Quill itself very much as the simple data-entry front-end it was originally conceived as. Even on those terms many trivial tasks are painfully tedious. The parser doesn't really parse at all. There's just a simple pattern matcher, which the author must micro-manage to the finest detail. One cannot simply define an object as takeable, for example, but must hand-enter the command that will allow it to be taken and dropped — and must do this separately for every single takeable object in the game. (Much of this tedium was removed in later versions of The Quill. See John Elliott's comment below.)
Amidst all of the excitement following the system's debut, some did voice a concern that it would lead to a rash of games that were not only primitive but all primitive in the same idiosyncratic way. Such fears were by no means entirely baseless. To some extent this is a problem with any authoring system; I wouldn't be the first to note that Graham Nelson's droll English diction has become the voice of contemporary interactive fiction thanks to the default messages of Inform, the most widely used development system today. The Quill's limitations and lack of flexibility merely make it even more immediately obvious to any experienced adventurer that she is playing a Quilled game. That said, The Quill's relatively long life gave plenty of people plenty of time to dig deep, to learn to push it and to learn to hack it. Much better, more complex works could be created with it than you might expect after a few minutes of fiddling around in its menus. Given the limitations of the 48 K Spectrum on which it runs, The Quill is put together in a very smart way. The average Quilled game is not only easier to create but more pleasant to play than (at the least) the average BASIC game. Tellingly, no one managed to come up with a system notably better for the Spectrum and equivalent machines despite the obvious commercial potential of such a beast.
Until Yeandle himself, that is: in late 1986 Gilsoft released his second-generation system, the Professional Adventure Writer (PAW). Arriving fairly late in the day for text adventures as a mainstream gaming staple, at least in Britain, it didn't become quite the phenomenon that The Quill had been, but did power many more games throughout Europe well into the 1990s.
Indeed, it's for that legacy of empowerment that PAW and (especially) The Quill deserve to be remembered today. It's not that established software houses didn't use The Quill; they did, to a surprising degree. Even Artic Computing, who had ignored Yeandle earlier, started using the Quill to create some of their new adventures. So did no less a light than Melbourne House of The Hobbit fame. But it's mostly for all the little guys that The Quill seemed a minor miracle. North America had nothing comparable, and, presumably in consequence, far fewer independent voices making and selling text adventures. Europe, by contrast, was blessed in having not only The Quill but a marketplace willing to accept and buy works by the inspired amateurs who used it. Gilberts himself was well aware of the democratizing effect of The Quill:
Anyone who wants to write can produce a novel without technical knowledge. You may not create great art but there's nothing to stop you trying. The Quill has opened up the same kind of opportunity to those who enjoy adventuring. We've tried to provide the computer equivalent of pen and paper.
No, most Quilled adventures are not great art or even great games, and they're not likely to get as much attention on this blog as they may deserve given that I have so many other titles that qualify at least as the latter to sort through. Yet many are personal, idiosyncratic works of the sort gaming could always use more of. The best of them have a real writerly personality, another thing always in short supply in gaming fictions. Some of the most fun, and arguably the most culturally useful, Quilled adventures are the ones that satirize the solemn pretensions (especially of the high-fantasy stripe) of mainstream gaming culture then and now — titles like Bored of the Rings, The Boggit, Loads of Midnight, The Big Sleaze, or the immortal Dildo and the Dark Lord (did I mention that Quilled adventures were also more liable to traffic in sex than the titles from bigger publishers?).
The person with the most amazing Quill story of all might just be John Wilson, the founder of Zenobi Software. After publishing a few of his own Quilled games on the label in the mid-1980s and seeing them do fairly well, Wilson began soliciting games from outside authors. Even as the bigger publishers gradually got out of text adventures, Wilson built a successful if modest business out of selling the games via mail order, communicating with customers via a newsletter and whatever magazine advertising he could afford that month. Zenobi alone published almost 250 games, the vast majority of them created with The Quill or PAW, before hanging it up at last in the shockingly late year of 1997, by which time Gilsoft and the rest of the gaming milieu that had birthed Zenobi were long gone. All of which is enough to qualify Zenobi as the most prolific of commercial text-adventure publishers, the most long-lived, and the last to give it up, and all by a wide margin.
As you've probably gathered by now, The Quill and PAW were easily the most widely used adventure-creation systems of the 1980s. In the whole of computing history they're rivaled only by Graham Nelson's various Inform incarnations, which may have powered a comparable number of games by now but have taken some twenty years to do it. The architect of this creative explosion, Graeme Yeandle, never gave up his day job and never made as much money from it as you might expect. He recalls that in the wake of The Quill's first gush of popularity in 1984 his royalty checks from Gilsoft actually amounted to more than his regular pay check — but "that didn't last long." The Quill was, even more so than most software, widely pirated. It's safe to say that many of those Quilled games being sold in magazine adverts were themselves made with pirated copies; Gilsoft didn't have any practical way to keep tabs on who had bought and who hadn't. Even their modest request that users include a mention of The Quill in their Quilled games also went unenforced and widely ignored. And consumers will always outnumber creators in any time and place, meaning that even an insanely popular engine of creation like The Quill will never sell more than a fraction of the copies of a hit game. Gilsoft and Yeandle could probably have made considerably more money from The Quill by pricing it higher and being more aggressive about asserting their rights in various areas. But Gilsoft wasn't Microsoft and young Gilberts was no Bill Gates; he was happy if the business just paid for "my beer and a car." Anyway, The Quill was so successful precisely because it was so cheap and easy; changes to Gilsoft's business model could likely only have diminished its impact.
As a consolation prize for fame and fortune, Yeandle and Gilberts got to see their creation getting used all around them, the most satisfying validation any programmer or engineer (or artist?) can enjoy. And they got to know that their work was allowing people to be creative in a medium that would otherwise have been inaccessible to them. At least in retrospect, that seems like more than enough.
(Much of this article was sourced from an old interview with Yeandle from The Solution Archive. Yeandle's now-defunct home page was also invaluable. And see also the Gilsoft features in Sinclair User #28 and #37. I discovered much of Moluf and Hanson's work while digging through old TRS-80 file archives, an often productive if exhausting way of researching.)