In addition to Defender of the Crown, Bob Jacob and Cinemaware were able to deliver two more of their planned four launch titles to Mindscape before the end of 1986. Only Bill Williams's Sinbad and the Throne of the Falcon fell hopelessly behind schedule, getting pushed well into the following year. Of the games that did make it, Sculptured Software's Atari ST game S.D.I. is mildly interesting as a time capsule of its era, Doug Sharp's Macintosh game King of Chicago much more so as an important experiment in interactive narrative. Today I'll endeavor to give each game its just desserts.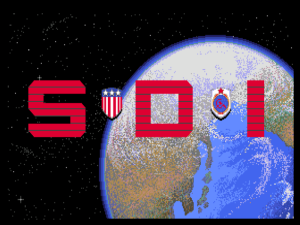 The scenario of S.D.I. is almost hilariously of its time, a weird stew of science fiction and contemporary geopolitics that quotes Ronald Reagan's speeches in its manual and could never have emerged more than a year or so earlier or later. It's 2017, the Cold War has gone on business-as-usual for another thirty years, and Ronald Reagan's vaunted Strategic Defense Initiative is approaching completion at last. In response, a large group of hardliners in the Soviet military have siezed control of many of their country's ICBM sites to launch a preemptive first strike, while also — this being 2017 and all — flooding Earth orbit with fighter planes to blow up those S.D.I satellites that are already online. This being a computer game and all, the nascent trillion-dollar S.D.I. program comes down to one guy with the square-jawed name of Sloan McCormick, who's expected to jump into his spaceship to shoot down the rebel fighters in between manually shooting rogue ICBMs out of the sky using the S.D.I. satellites. He's of course played by you. If you succeed in holding the hardliners' attacks at bay for long enough, you'll get a distress call from the legitimate Soviet government's central command station, whereupon — just in case anyone was thinking you hadn't done enough for the cause already — you'll have to singlehandedly enter the station and rescue it from a final assault by the hardliners. Succeed and you'll get your trademark Cinemaware reward in the form of Natalya, the sultry commander of the station who's inexplicably in love/lust with you. Who said glasnost was dead?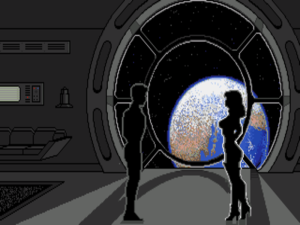 Like Defender of the Crown, S.D.I. very nearly missed its planned launch. It took John Cutter stepping in and riding herd over a Sculptured Software that seemed to be just a little out of their depth to push the project along to completion. It isn't a terrible game, but it is the Cinemaware game that feels least like a Cinemaware game, well earning its status as the forgotten black sheep of the family. Natalya aside, its cinematic influences are minimal. The manual tries heroically to draw a line of concordance through heroes like Flash Gordon and Han Solo to end up at Sloan McCormick, but even it must admit to an important difference: "This time the danger comes, not from an alien invasion, but from a force here on Earth." Likewise, S.D.I. doesn't conform to the normal Cinemaware ethos of (in Jacob's words) "no typing, get you right into the game, no manual." Flying around in space blasting rebels requires memorizing a number of keyboard commands that can be found nowhere other than the ideally unnecessary manual. What with its demanding, non-stop action broken down into distinct stages, S.D.I. reminds me of nothing so much as Access Software's successful line of Commodore 64 action games that included Beach-Head and Raid Over Moscow; S.D.I. also shares something of a theme with the latter game, although it didn't provoke anything like the same controversy. Unfortunately, Cinemaware's take on the concept just isn't executed as well. The "flight simulator" where you spend the majority of your time is a particular disappointment; your enemies follow a few distressingly predictable flight patterns, while your control over your own ship is nonsensically limited to gentle turns, climbs, and dives. And the Elite-inspired docking mini-game you have to go through every time you return to your base is just infuriating. But perhaps most distressing, especially to the Amiga owners who finally got their hands on the game when it was ported to their platform almost a year later, were the workmanlike graphics, created in-house by Sculptured Software. One could normally count on great graphics even from Cinemaware games whose gameplay was a bit questionable, but not so much this time. Even Natalya, well-endowed as she was, couldn't compete with those fetching Saxon lasses from Defender of the Crown.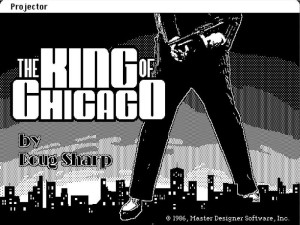 King of Chicago is a far more innovative game. This interactive gangster flick stars you as Pinky Callahan, an ambitious young hoodlum in 1931 Chicago. Al Capone has just been sent away for tax evasion, creating an opening for you and your North Side gang of Irishmen, principal rivals of Capone's Chicago Outfit. But to unite the Chicago underworld under your personal leadership you'll first have to oust the Old Man who currently runs your own gang. Only then you can start on the Chicago Outfit — or, as the game calls them, the "South Siders." Swap out medieval England for Prohibition-era Chicago and the scenario isn't all that far removed from Defender of the Crown: conquer all of the territory on the map that's held by your ethnic rivals. The experience of playing the two games, however, could hardly be more different.
Like Defender of the Crown, King of Chicago isn't so interested in the actual history it references as it is in movie history. It doesn't even bother to get the dates right; the game begins months before the real Capone was sentenced and sent away. Victory in King of Chicago must mean the North Siders rising again to take over the whole city, a scenario as ahistorical as the Saxons defeating the Normans to regain control of England. (Cinemaware did seem to have a thing for historical lost causes, didn't they?) Prohibition-era Chicago is just a stage set for King of Chicago, Al Capone just a name to drop. The only place where the game notably departs from gangster-movie clichés is in making you and your gang a bunch of Irishmen rather than Italians — and if you don't pay attention to one or two last names it's easy to miss even that, given that there's no voice acting and thus no accents to spot. Otherwise all of the expected tropes are there, from Pinky's weeping mother who gives all the money he sends her to the church to his devious, high-maintenance girlfriend Lola. But then, as Bob Jacob so memorably put it, all Cinemaware really had to do was "rise to the level of copycat, and we'd be considered a breakthrough." Fair enough. As homages go — and you'll find very few computer-game fictions of the 1980s that aren't an homage to more established media of one sort of another — King of Chicago is one of the better of its era.
Indeed, some may find it a bit too true to its inspirations. King of Chicago is notable for just how hardcore a take on the gangster genre it is. Pinky is a punk. You can play him as a devious sneak or a violent, impulsive psychopath, but he remains a punk. There's no redemption to be found amongst King of Chicago's many possible story arcs, just crime and bloody murder and revenge and, if all goes well, control of the whole of Chicago. While the ledger quietly omits the brothels that provided so much of the real Chicago mob's income, that's about the only place where the game s