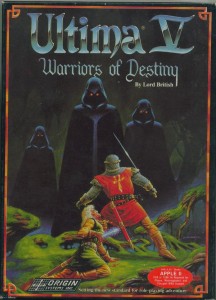 It's not easy having a software superstar for a little brother. That's something that Robert Garriott, president of Origin Systems, had more and more cause to realize as the 1980s wore on. Whilst Richard Garriott quite literally lived out his fantasies, it was Robert who was left to deal with all the mundanities of running a small game developer in an industry that was ever becoming a more precarious place. Whilst Richard wrote the games and gave all the interviews and reveled in his Lord British persona, it was Robert who dealt with the sort of people who might not be terribly impressed by a wispy 25-year-old that liked to affect the personality and the dress code of a Medieval monarch. It was Robert who negotiated the business deals, Robert who represented Origin's interests with the Software Publishers Association, Robert who put a sober, businesslike face on a company that to a lot of outsiders looked like little more than a bunch of nerds with too much time on their hands. And sometimes it was Robert who found himself trapped between the practicalities of running a business and the desires of a famous younger brother who was just slightly full of himself — what young man wouldn't be slightly full of himself in his situation? — and was used to having things his own way.
The most dangerous of these conflicts was the great sibling squabble over just where Origin Systems should be located. Back at the end of 1983, you may remember, Robert had been able to convince Richard to move the company from their parents' garage in Houston, Texas, up to New Hampshire, where his wife Marcy had found a fine position of her own working for Bell Labs. The deal was that they would remain there for at least three years. Robert, who had spent the months before the move commuting cross-country in his private plane, hoped that during the three years something might change: Marcy might get a transfer, or Richard might decide he actually liked New England and wanted to stay there. Well, at the end of 1986 the three years were up, and neither of those things had happened. Richard, who persists to this day in describing his exile in the "frozen wasteland" of New Hampshire in terms lifted straight out of Ethan Frome, figured he had fulfilled his side of the deal, had done his three years as he'd said he would. Now he wanted to move. And he knew exactly where he wanted to move to: back to warm, sunny Austin, the city that had felt like the only place he wanted to make his home almost from the day he arrived to attend university there back in 1979.
A deal being a deal notwithstanding, Robert tried to nix the move, at least for the time being. In addition to his own marriage — he and Marcy certainly didn't relish going back to commuting cross-country — there were the other Origin employees to think about. Sure, most of the technical staff remained the same group of youngsters that had trooped up north with the Garriotts three years before; they were almost one and all in agreement with Richard that it was time to be southbound again. But there were also the support personnel to think of, New Englanders hired in New England who had been doing good work for the company for quite some time. Robert proposed that they put Origin's future location to a simple company-wide vote.
That proposal really pissed Richard off. New Englanders now well outnumbered Texas transplants, meaning the outcome of any vote must be a foreordained conclusion — which was, Richard believed, exactly why Robert was asking for one. The two had screaming rows that spilled out of their offices into the hallways of a suddenly very tense suite of offices, while the occupants of those offices, northerners and southerners crammed together under one roof for years, now felt free to let loose on each other with all of the frustrations they'd been keeping under wraps for so long. It was civil war — the staid New Englanders who were loyal to Robert against Lord British's merry band of anarchists. In a fit of pique and homesickness, Richard's right-hand man Chuck Bueche, programmer for the Ultima games, porting expert, and designer of games in his own right, announced he'd had enough and headed for Texas on his own. Richard and Robert each threatened to break with the other, to do his own thing with his own splinter of the company.
Such threats were ridiculous. Richard and his crew were no more capable of taking full responsibility for a company than Robert and his were of writing the next Ultima. These two needed each other for more reasons than just the ties of blood. It was finally left to older and cooler heads, in the form of the brothers' parents, to broker a compromise. Richard would move back to Austin with most of the technical team, to set up a small studio there that would make the games; Robert would remain in New Hampshire with Marcy, a couple of programmers working on ports and ancillary projects, and the larger support staff that was responsible for packaging and marketing the games and running the business as a whole.
Thus Richard and company, reunited again with Bueche, found themselves a minimalist office in Austin in early 1987, fifteen desks ranged along a single long hallway. And Richard himself, now becoming a very wealthy young man indeed thanks to the huge success of Ultima III and IV, started work on Britannia Manor, a custom-built house-cum-castle worthy of Lord British; it came complete with secret passageways, a cave, a wine cellar, and a stellar observatory. It was pretty clear he wasn't planning to go anywhere else anytime soon.
Carried out though it was for very personal reasons, Richard's return to Austin would prove the single best business move Origin ever made. Eastern Texas may not have had as sexy a reputation as Silicon Valley, but there was plenty of high technology in the environs of Dallas, Houston, and Austin, along with a booming economy and low taxes to boot. Austin itself, in addition to being home to a prestigious university boasting almost 50,000 students of diverse talents, was something of the cultural as well as government capital of the state. Along with a lively music scene and tattoo parlors and all the other attributes of a thriving college town, Weird Austin boasted a diverse tapestry of nerdier culture, including Richard's beloved SCA chapter and the hugely influential tabletop-game publisher Steve Jackson Games. What Austin, and Texas in general for that matter, rather oddly lacked was any notable presence in the computer-games industry. Richard himself was shocked at the hungry talent that washed up unbidden at Origin's doorstep almost as soon as they hung their shingle, all eager to work for the house that Ultima had built. "Austin as a location was fundamental to the success of Origin," remembers Richard, "because there was so much talent here in this town." The atmosphere inside Origin's new Austin office was soon so exciting, so positively bursting with possibility, that Robert had to admit defeat. More and more of Origin's operations steadily moved south. Within a couple of years, Robert would convince Marcy to make the move with him, and Origin's operations in New Hampshire would come to an end.
But hardly was the great Texas/New Hampshire crisis resolved than another raised its head. This time the dispute wasn't intra-family or even intra-company. It rather involved Electronic Arts, a much bigger publisher with which little Origin would have quite the love-hate relationship over the years.
The origin of Origin's EA problem dated back to August of 1985, about a month before the release of Ultima IV. By this point distribution was starting to become a real issue for a little publisher like Origin, as the few really big publishers, small enough in number to count on one hand, were taking advantage of their size and clout to squeeze the little guys off of store shelves. Knowing he had a hugely anticipated game on his hands with Ultima IV, one that with the proper care and handling should easily exceed the considerable-in-its-own-right success of Ultima III, Robert also knew he needed excellent distribution to realize its potential. He therefore turned to EA, one of the biggest of the big boys of the industry.
The agreement that resulted was quite the coup for EA as well as Origin. Thanks to it, they would enjoy a big share of the profits not just from The Bard's Tale, the hit CRPG they had just released under their own imprint, but also from Origin's Ultima IV. Together these two games came to dominate the CRPG field of the mid-1980s, each selling well over 200,000 copies. For a company that had never had much of anything to do with this genre of games before, it made for one hell of a double whammy to start things off.
While it's been vaguely understood for years that Origin and EA had a mid-1980s distribution agreement that broke down in discord, the details have never been aired. I'm happy to say that I can shed a lot more light on just what happened thanks to documents housed in the Strong Museum of Play's collection of Brøderbund papers. (The reason I was able to find them in a Brøderbund archive will become clear shortly.) I unfortunately can't make these documents publicly available, but I can summarize and quote extracts from them. I do want to look at the contract that EA and Origin signed and the dispute that would eventually result from it in some detail, both because it's so very illustrative of how the industry was changing as it entered the second half of the 1980s and because it provides a great example of one of the most dangerous of the potential traps that awaited the small fry who still tried to survive as independents. Origin would escape the trap, but many another small publisher/developer would not.
At first glance the distribution contract might seem more generous to Origin than to EA. Origin is obligated to remain the distributee only as long as EA has bought product from them totaling a stipulated amount over the course of a rolling calendar. By the end of the contract's first year, which comes on September 1, 1986, EA must have bought $3.3 million worth of Origin games. The goal for the second year of the contract doubles; EA must have bought games worth $9.3 million in total from Origin by September 1, 1987, in order for the latter company to be obligated to honor the third and final year of their distribution contract. That's a very ambitious sales goal for a little company like Origin whose entire reason for existence was a single series of games with a sporadic release schedule. (Origin had already released some non-Ultima titles and would continue to do so, but it would be years yet before any of them would make an impact on their bottom line to even begin to rival that of Ultima.)
All went well between Origin and EA for the first eighteen months. The trouble started shortly after Richard's move back to Austin, when he got word of EA's plans to release a rather undistinguished CRPG called Deathlord that was even more derivative of Ultima than was the norm. As Strategic Simulations, Incorporated, had learned to their chagrin a few years earlier in the case of their own Ultima clone Questron, Richard didn't take kindly to games that copied his own work too blatantly. When EA refused to nix their game, and also proved uninterested in negotiating to license the "game structure and style" as SSI had done, Richard was incensed enough to blow up the whole distribution deal.
Richard and Robert believed that Origin would be on firm legal ground in withdrawing from the distribution agreement at the onset of the third year because EA was projected to have purchased just $6.6 million worth of product from Origin by September 1, 1987, way short of the goal of $9.3 million. Origin informed EA of their intentions and commenced negotiating a new distribution agreement with another of the big boys, Brøderbund, currently riding even higher than EA on the strength of The Print Shop and Carmen Sandiego.
The notice was greeted with shock and outrage by EA, who felt, and by no means entirely without reason, that it was hardly their fault that they were so far from the goal. That goal had been predicated on not just one but two or three or possibly even four new Ultima games being released during those first two years. Foreshadowing the way that Origin would handle Ultima VII years later, Richard's plan at the time the contract was signed had been to release an Ultima IV Part 2 that would reuse the same engine in relatively short order, and only then to turn to Ultima V. But those plans had fallen by the wayside, undone by Richard's idealistic need to make each Ultima clearly, comprehensively better than its predecessor. And now Ultima V was taking even longer than had Ultima IV. Having long since missed the original target of Christmas 1986, it now looked almost certain to miss Christmas 1987 as well; it still looked to be a good six months away from release as of mid-1987.
Yet it was the Ultima I situation that most ruffled EA's feathers. When the rights to the first game of the series, having passed through the hands of the long-defunct California Pacific and then Sierra, reverted back to Richard in 1986, Origin assigned several programmers to rewrite it from scratch in assembly language rather than BASIC, adding graphical upgrades and interface enhancements along the way to bring it at least nominally up to date. Already a semi-legendary game, long out of print on the Apple II and never before available at all on the Commodore 64 or MS-DOS, the new and improved Ultima I carried with it reasonably high commercial hopes. While not the new Ultima, it was a new Ultima for the vast majority of Lord British fans, and should ease some of the disappointment of not being able to get Ultima V out that year. But in the wake of the Deathlord dust-up it became clear to EA that Origin was deliberately holding Ultima I back, wanting to tempt their prospective next distributor with it rather than give EA their fair share of its earnings. This… well, this pissed EA right the hell off. And, then as now, pissing off EA wasn't usually a very good idea.
EA's lawyers went through the contract carefully, looking for anywhere where they might knock a few dollars off the requirement of $9.3 million in orders inside two years.
The original goal for 9/1/87 was stated in Exhibit A as $9,300,000. This amount "is reduced by $40,000 for every month in which any of the software products listed in Exhibit B are not available according to the schedules set forth in Exhibit B." Moebius/Apple was listed as being available in September 1985, and was not available until November 1985, a slip of two months. Ogre/Apple was listed as being available in November 1985 and was not available until June 1986, a slip of seven months. Moebius/C64 was listed as being available in November 1985 and was not available until October 1986, a slip of eleven months. Taking into account only those titles listed in Exhibit B, a total of 22 months are applicable to the $40,000 provision, equaling a deduction of $880,000 from the $9,300,000 goal mentioned earlier, leaving a net goal of $8,420,000 for 9/1/87.
The adjusted goal of $8.4 million still left EA $1.8 million short. No problem. They attached to the same letter a purchase order for a random hodgepodge of Origin products totaling the full $1.8 million. EA didn't really care what Origin shipped them, as long as they billed them $1.8 million for it: "If Origin is unable to ship any of the products in the quantities stated on the purchase orders, please consider this an order for a similar dollar volume of any of your products that can be shipped in sufficient quantities to meet our 9/1/87 objectives."
You're probably wondering what on earth EA is thinking in throwing away almost $2 million on any old anything at all just to retain Origin as a distributee. Far from cutting off their nose to spite their face, they're playing hardball here; what they've just done is far more dangerous for Origin than it is for them. To understand why requires an understanding of "overstock adjustments," better known as returns. It's right there in the original contract: "Vendor [Origin] agrees to issue credit to EA based on the original purchase price for the return of resalable overstock made any time beyond 90 days of original receipt." This provision gives EA the ability to crush Origin, accidentally or on purpose, by over-ordering. Origin can honor the order, only to have it all come back to them along with a bill big enough to bury them when EA doesn't sell it on. Or Origin can refuse to honor the order and get buried under a nasty breach-of-contract lawsuit. Or they can come back to EA hat in hand and ask nicely if both parties can just forget the whole thing ever happened and continue that third year of their agreement as was once planned.
Many small publishers like Origin were becoming more and more angry and/or terrified by the logistics of distribution by the latter half of the 1980s. This is why. Nevertheless, with the big publishers squeezing out any other means of getting their games onto store shelves, most of the small companies were forced to get in bed with one of the big boys against their better judgment. Although several other big publishers had affiliate distribution programs, Activision and EA became the most aggressive of the bunch, both in recruiting and, if things didn't work out, destroying affiliated labels by returning hundreds of thousands or millions of dollars worth of product along with a bill for same. The battlefield of the industry's history is fairly littered with the corpses of companies who signed distribution deals much like Origin's with EA.
Origin, however, was lucky. In rushing to become a distributee of Brøderbund, they'd found shelter with a company with the resources to go toe-to-toe with EA; Doug Carlston, founder and president of Brøderbund, was himself a lawyer. Brøderbund took Origin's cause as their own, and a settlement agreement presumably entailing the payment of some sort of penalty from Origin and/or Brøderbund to EA was reached in fairly short order. (The actual settlement agreement is unfortunately not included in the Strong's collection.) Origin signed a two-year distribution contract with Brøderbund, and all of EA's worst suspicions were confirmed when the revamped Ultima I shipped on the very first day of the new agreement. And that wasn't even Origin's last laugh: Deathlord, the match that had lit the whole powder keg, got mediocre reviews and flopped. True to his tradition of adding references to his contemporary personal life into each Ultima, Richard added the words "Electronic Arts" to the in-progress Ultima V's list of forbidden swear words ("With language like that, how didst thou become an Avatar?"). Just for good measure, he also built a mausoleum for "Pirt Snikwah" on the grounds of Britannia Manor. Like most monarchs, Lord British apparently didn't forget a slight quickly.
The Garriotts were still living charmed lives. Much as so many love to romanticize Trip Hawkins's "electronic artists" of the 1980s, complete with crying computers and all the rest, EA has always been a rough customer when it gets down to the brass tacks (knuckles?) of doing business. Few others have tangled with them like Origin did and lived to tell the tale.
Behind all this drama there lurked always the real point of the whole endeavor that was Origin Systems: Ultima, specifically Ultima V. Just like all the other games in the series, it was well on the way to dwarfing its predecessor in terms of scale and technical ambition, with all the birthing pains that must imply.
Beginnings and endings can be tricky things for an historian to come to grips with. Certainly the middle period of the eventual nine-game Ultima series is full of them. There's the beginning marked by the great conceptual leap that is Ultima IV, when the series became about more than killing monsters, collecting loot, and leveling up — a leap that changed the series's character to such an extent that plenty of fans will tell you that you needn't even bother with anything that came before, that the real Ultima starts right here. And there's the ending that is Ultima VI, the first Ultima not built on the code base of its predecessor, the first not developed and released first and foremost for the Apple II, the first for which Richard did none of the programming.
In between the two lies Ultima V, a crossroads game if ever there was one. It marks the end of the line for the 8-bit Ultimas, the basic structure that began with Akalabeth pushed to a complex extreme that would have been unthinkable back in 1980. How extraordinary to think that this game runs on essentially the same computer as Akalabeth, plus only 16 K of memory here or an extra disk drive there. The series's glorious last hurrah on the Apple II, it also marks the beginning of a radically different development methodology that would carry forward into the era of the MS-DOS-developed Ultimas. Starting with Ultima V, new Ultimas would no longer be the end result of Richard Garriott toiling alone in front of a single Apple II for months or years until he emerged with bleary eyes and disk in hand. From now on, Richard would direct, design, and supervise, while other people did most of the grunt work.
It was an obviously necessary step from the perspective of even the most minimally informed outsider. Ultima IV had taken him two years, twice as long as originally planned, and had nearly killed him in the process. If the series was to continue to grow in scale and ambition, as he himself always demanded it should, something had to give. Yet Richard resisted the obvious for quite some time. He struggled alone, first with the abortive Ultima IV Part 2 and then with Ultima V, for almost a year while everyone fretted at the lack of progress. He genuinely loved programming, took pride in knowing each new Ultima was truly his personal expression, top to bottom. But at last he accepted that he needed help — an acceptance that would change everything about the way that Ultimas got made forevermore.
The process started with two new programmers, Steve Meuse and John Miles. The former started writing tools to make it easier to create the world, to put a friendly interface on all of the tasks that Richard normally managed by hand using nothing more than a hex editor. Meuse's "Ultima Creation Package" would grow into something that, according to Richard, "almost anyone could use." Meanwhile Miles took over most of the actual game-programming tasks from Richard; more than half of the code that shipped in the finished game would be his. "The transition of doing it all yourself to doing it as a team was very painful," Richard says of this landmark change of late 1986 that marked the abrupt end of his days as a working programmer. "However, once you had a team in place, and especially once you were no longer sharing the duties of both doing it and managing it, the pain went away."
Richard's team only continued to expand after the move to Austin, as all of that pent-up Texas talent began arriving on Origin's doorstep. The finished game credits no fewer than six programmers in addition to Richard himself. With so many more people involved, this Ultima needed a project manager — the role also commonly referred to as "producer" — for the first time as well. That role went to Dallas Snell, late of Penguin Software, who, nobody being too specialized yet at this stage, did some of the programming as well. Snell lobbied for months for the hiring of a full-time artist, but Richard remained skeptical of the need for one until quite some time after the move to Austin. But at last Denis Loubet, an Austin artist who had been doing cover art for Richard's games since the days of Akalabeth, joined the Origin staff to do all of the art for Ultima V, whether the media be paper or cardboard or pixels. Loubet's work, blessedly free of the chainmail bikinis and other cheesecake tendencies that make most vintage CRPG art so cringe-worthy, would now become even more integral to the series, helping to maintain its aura of having just a little more class than the standard CRPG fare. Finally, and also largely thanks to Snell's determination to professionalize the process of making Ultimas, there are fourteen people — fourteen! — credited solely for play-testing Ultima V, more than enough to ensure that there wouldn't be any more blatant screw-ups like the vital clue that was left out of Ultima IV.
Freed from the pressure of programming, Richard could make Ultima V a much more consciously designed game than its predecessors. From an interview conducted almost a year before the game was published:
In previous Ultimas the combat systems were not designed out on paper ahead of time. I kind of ranked weapons in order of strength… the higher up the list of weapons you got, the better the weapon. Now I've actually designed an entire gaming system, including magic and combat, that is just as good to play on paper as on the computer. It's extremely well-balanced, both [sic.] the weapons, armor, and magic, and we've been balancing the costs and uses of those things for six months — essentially by playing Ultima on paper.
Origin was so proud of this system of rules that they planned for some time to make an Ultima tabletop RPG out of them. That project fell by the wayside, but just the fact that Richard was thinking this way represented a huge step forward for a series whose mechanics had always felt ad hoc in comparison to those of its original rival, Wizardry. "I can tell you in numbers the probabilities of your being able to do something," said Richard, "whereas in previous Ultimas I probably wouldn't be able to do so. I just kind of did it until it looked right."
While all of the extra care and thought that was going into this Ultima was welcome, it was also time-consuming. A series of release dates spouted by an overoptimistic Richard in interview after interview fell by the wayside, as subscribers to adventurer-catering magazines like Questbusters read for a year and a half of a game that was perpetually just a few months away. Still, the game they kept reading about sounded better with every mention: it would fill no less than eight Apple II disk sides; it would offer twice as much territory as Ultima IV to explore; each non-player character would have three times as much to say; non-player characters would have realistic day-and-night schedules that they followed; just about every single thing in the world, from table and chairs to torches and even a harpsichord, would be a discrete, manipulable object.
More philosophically-minded fans wondered about a subject on which there was less concrete information available: what would the new Ultima be about? After the great conceptual leap that had been Ultima IV, would Lord British be content to return to monster-killing and evil-wizard-bashing, or would there be another — or perhaps the same? — message on offer this time out?
All of their questions were answered on March 18, 1988, when Origin released Ultima V: Warriors of Destiny for the Apple II; versions for MS-DOS and the Commodore 64 followed in July and October respectively, with ports to a handful of other platforms trickling out over the following year or so. We'll dive into the virtual world that awaited Ultima V's army of 200,000-plus eager buyers next time.
(Sources for this article and the next: Questbusters of June 1987, July 1987, August 1987, March 1988, July 1988; Game Developer of September 1994; Computer Gaming World of March 1986, December 1987, July 1988, January 1989, November 1991, November 1992. The books The Official Book of Ultima by Shay Addams; Dungeons and Dreamers by Brad King and John Borland; Ultima: The Avatar Adventures by Rusel DeMaria and Caroline Spector. See also Richard Garriott's extended interview with Warren Spector. And of course the Strong's collection; my thanks to Jon-Paul Dyson and his colleagues for hosting me there for a very productive week!
Ultima V is available from GOG.com in a collection with its predecessor and sequel.)