Monthly Archives:
February 2021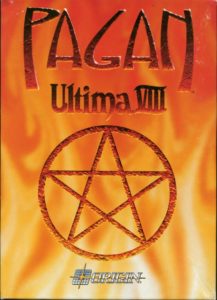 In 1994, Origin Systems's Ultima series was the most universally lauded franchise in computer gaming. Over the course of seven mainline games and five spinoffs and side stories, the Ultima brand had consistently stood for elaborate but doggedly nonlinear plots which seriously engaged with questions of ethics; for the familiar but ever-evolving and ever-welcoming world of Britannia in which most of the games took place; for a merry group of recurring boon companions with whom the Avatar, the player-defined protagonist of the games, adventured each time; for complex rules systems and knotty central mysteries that required brainpower and lots of notepaper rather than reflexes to work through.
But then, for the eighth game in the mainline Ultima series, Origin decided to try something just a little bit different. They made a game in which you played a thoughtless jerk moving on rails through a linear series of events; in which you never went to Britannia at all, but stayed instead on a miserable hellhole of a world called Pagan; in which you spent the whole game adventuring alone (after all, who would want to adventure with a jerk like you?); in which the core mechanics were jumping between pedestals like Super Mario and pounding your enemies over the head with your big old hammer.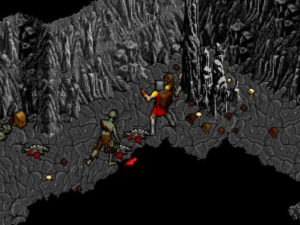 Tens of thousands of eager Ultima fans, some of whom had been buying every installment of the series for ten years or more, rushed home from their local software stores with Ultima VIII: Pagan in their hot little hands. An hour later, they were one and all sitting there scratching their heads and asking themselves what the hell had happened. Had they bought the wrong game entirely? No, it said "Ultima" right there on the box!
For the past quarter century, Ultima fans have continued to ask themselves that same question: what the hell happened with Ultima VIII? It stands today as one of the most bizarre would-be series continuations in gaming history, such a colossal failure to meet its players' expectations that, alone and unaided, it killed dead at a stroke the most venerable franchise in computer gaming. No, really: Origin couldn't have shot Ultima in the head more efficiently if they'd tried. And so we ask ourselves again: what the hell happened? What the hell was Origin thinking?
In seeking to explain the seemingly unexplainable, Ultima fans have tended to hew to a simple, naturally appealing narrative that paints Electronic Arts — gaming's very own Evil Empire — as the unmitigated villain. After acquiring Origin in late 1992, so the story goes, EA forced them to abandon all of the long-established principles of Ultima in order to reach the mass market of lowest-common-denominator players to which EA aspired. Richard Garriot — a.k.a. "Lord British," the father of Ultima and co-founder of Origin — has embraced this explanation with gusto, part and parcel of a perhaps too prevalent tendency with His Lordship to lay his failures at the feet of others. From Garriott's 2017 memoir:
The reality is that EA earns most of its revenue with terrific games like Madden Football. Every year they publish a new edition, which reflects the changes in the NFL. They don't have to create much that's new — they just tweak their football-game engine and update the rosters. The rules of football change slowly. At the deadline they wrap it up and release it. The audience is pre-sold.

Conversely, the games we were making could easily take two years or more to create. We released them when we were done. That was not EA's way of doing business. "Richard," they told me, "your release of games is incredibly unreliable." They wanted us to change our development process to meet their deadlines. The game we were developing when we sold Origin was Ultima VIII; EA wanted it on the shelves in time for the following Christmas. This was the first time in my life that the realities of business became more important than the quality of a product. They were adamant: "Richard, you need to cut whatever needs to be cut to get this game done." So I cut it; I cut it and I cut it and I cut it, and as a result I shipped the most incomplete, dumb, buggy game I've ever shipped. I still believe that if we had waited until it was complete, Ultima VIII would have been a great game. We would have been the first to market with a variety of features that eventually proved very popular in other games. But we didn't wait, and that was my fault. I bowed to the outside pressure.

Most distressing was seeing the results of making those cuts on both the game and my team. The team saw past the warts, knew what we were up against, and loved the game for what it was; they appreciated the innovations in it rather than bemoaning what it could have been. But the press, as well as a number of players, didn't like it at all. The reviews were terrible. All the money I'd been paid had no meaning. I felt awful that I had let down so many people in my effort to be loyal and learn from EA.

And a lot of people had made serious sacrifices to meet EA's schedule. Many of our programmers had worked twelve hours a day, seven days a week for ten months. We would bring dinner in for them because we were afraid if they left, they might not come back. The last month or so we gave them every other Sunday off so, as one of them pointed out, they could see their family or do some laundry. The creative joy we'd once shared in developing a game had been replaced by the prosaic demands of running a business. It was hard to believe how much had changed; only a few years earlier our people would happily work all night and love every minute of it, and now we had become a sweatshop.

At least partially as a consequence of that disappointment, management told me, basically, that they didn't want me making big games like Ultima anymore.
This classic passive-aggressive apology — "I felt awful that I had let down so many people in my effort to be loyal and learn from EA" doesn't exactly ring out with contrition — isn't even internally consistent; if the development team loved their game so much, why was Origin's management forced to devise stratagems to keep them from going home out of the fear that they wouldn't come back? Nevertheless, it does contain a fair amount of truth alongside its self-serving omissions; one would be foolish to deny that the EA acquisition played a major role in the Ultima VIII debacle. And yet the discussion should perhaps be framed rather differently. It might be more accurate to see Origin's acquisition by EA and the eventual Ultima VIII as mutual symptoms rather than cause and effect, both being the result of Origin trying to negotiate trends that seemed to leave Ultima with less and less space to be what it had always been.
Let's start by looking more closely at the timeline than Garriott deigns to do above. EA and Origin signed the acquisition contract in September of 1992, just five months after Ultima VII: The Black Gate had shipped. Ultima VIII would still have been in the early-concept phase at best at that point. When he refers to "the following Christmas" above, Garriott thus presumably means the Christmas of 1993. While this release date may have been a stated aspiration, it's hard to believe it was a serious one; it would have marked the swiftest turnaround time between two mainline Ultima games since the first three of them in the early 1980s. As it was, Ultima VIII wouldn't ship until March of 1994, still in a woefully unfinished state.
Yet the story of Ultima VIII is more than that of just one more game that was released before its time. Even had all of Origin's plans for it come off perfectly, it would still have been a radical, seemingly nonsensical departure from everything Ultima had been in the past. Multiple sources confirm that it was in fact Richard Garriott himself rather than any soulless suit from EA who decided that the latest installment in Origin's epic CRPG series ought to become a… platformer. He was inspired in this not by Super Mario Bros., as many fans would later suspect, but rather by Prince of Persia, Broderbund Software's hugely popular, widely ported, elegantly minimalist, intensely cinematic linear action game. Prince of Persia was and is a more than worthy game in its own right, but it seems a strange choice indeed to use as inspiration for the latest Ultima. We should try to understand where the choice came from in the context of the times.
Garriott has often joked that he spent the first twelve years of his career making essentially the same game over and over — merely making said game that much bigger and better each time out. If so, then Ultima VII was the ultimate, if you will, version of that game. Today its reputation is as hallowed as that of any game of its era; it remains a perennial on lists of the best CRPGs of all time. Yet its mixed reception in 1992 rather belies its modern reputation. Many reviewers expressed a certain ennui about the series as a whole, and ordinary gamers seemed less excited by its arrival than they had been by that of Ultima IV, V, or VI. Ultima Underworld, a more action-oriented spinoff which was created by the outside studio Blue Sky Productions and published by Origin just a month before Ultima VII, collected more critical praise and, likely most frustratingly of all for the hyper-competitive Garriott, continued to outsell its supposed big brother even after the latter's release. A survey in the March 1993 issue of Computer Gaming World magazine is particularly telling: Ultima VII is rated as the 30th favorite game of the magazine's readers, while Ultima Underworld is in a tie for third favorite. Meanwhile Origin's eighteen-month-old Wing Commander II, a cinematic action game of Star Wars-style space combat, still sits at number six.
Indeed, the role of Wing Commander in all of this should not be neglected. The brainchild of an enthusiastic young Englishman named Chris Roberts, the first game in that series had upon its release in 1990 surprised everyone by handily outselling that same year's Ultima VI. The Wing Commander franchise had kept on outselling Ultima ever since, whilst being faster and easier to make on an installment-by-installment basis.This too could hardly have sat well with Garriott. The House That Ultima Built had become The Home of Wing Commander, and Chris Roberts was now more in demand for interviews than Lord British. The harsh truth was that EA had been far more excited about Wing Commander than Ultima when they decided to acquire Origin.
Taken as a whole, all of this must have seemed intensely symbolic of a changing industry. As computers got faster and came to sport higher-fidelity audiovisual capabilities, visceral action titles were taking a bigger and bigger slice of computer-game sales, as evinced not only by the success of Ultima Underworld and Wing Commander but by other big hits like id Software's Wolfenstein 3D. Onscreen text was out of fashion, as was sprawl and complexity and most of the other traditional markers of an Ultima. Shorter, more focused games of the sort that one could pick up and play quickly were in. Origin had to keep up with the trends if they hoped to survive.
In fact, Origin was in an extremely perilous financial state just before the EA acquisition. EA's deep pockets would allow them to keep pace with spiraling development costs for the time being. But in return, the games they made had to have enough mass-market appeal to recoup their larger budgets.
This, then, was the calculus that went into Ultima VIII, which begins to make the inexplicable at least somewhat more comprehensible. At this juncture in time, epic CRPGs were at literally their lowest ebb in the entire history of computer games. Therefore Ultima, the series that was virtually synonymous with the epic CRPG in the minds of most gamers, needed to become something else. It needed to become simpler and faster-paced, and if it could also jump on the trend toward grittier, more violent ludic aesthetics — I point again to the rise of id Software — so much the better. It may not have been a coincidence that, when Ultima VIII eventually shipped, it did so in a box sporting garish orange flames and a huge pentagram — the same general graphics style and even iconography as was seen in DOOM, id's latest ultra-violent hit.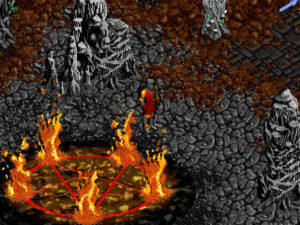 Of course, the flaws in the thought process that led to Ultima VIII aren't hard to identify in retrospect. Games which lack the courage of their own convictions seldom make for good company, any more than do people of the same stripe. The insecure child of a nervous creator who feared the world of gaming was passing him by, Ultima VIII could likely never have aspired to be more than competent in a derivative sort of way.
The biggest blunder was the decision to slap the Ultima name on the thing at all, thereby raising expectations on the part of the franchise's preexisting fan base which the game was never designed to meet. Ironically, the audience for an Ultima was every bit as "pre-sold," as Garriott puts it above, as the audience for the latest Madden. And yet one game that fails to meet fan expectations can destroy just such a pre-sold audience really, really quickly, as Garriott was about to prove. (An analogy to the radical change in course of Ultima VIII might be a Madden installment that suddenly decided to become a cerebral stat-based game of football management and strategy instead of an exercise in fast-paced on-the-field action…) It would have been better to announce that Ultima was taking a break while Lord British tried something new. But it seems that Garriott identified so strongly with the only line of games he had ever seriously worked on that he couldn't imagine not calling his latest one Ultima VIII.
So much for the conceptual flaws in the project. Alas, its execution would prove even more of a disaster.
Richard Garriott's involvement in the day-to-day work of game development had been decreasing almost year by year, ever since he had first agreed to let other programmers help him with Ultima V back in 1986. The Ultima VIII project was set up in the same way that the last couple had been: Garriott provided a set of general design goals and approaches along with a plot outline, then dropped in occasionally on the Origin staff who were assigned to the project while they made it all happen. This time the role of project director fell to one Mike McShaffry, who had come to Origin in 1990 to work as a programmer on Ultima Worlds of Adventure 2: Martian Dreams, then held the same role on Ultima VII. Meanwhile the nuts-and-bolts designers of Ultima VIII became John Watson and Andrew Morris.
None of these people were incompetent; all would continue to pursue fruitful careers in the games industry after Ultima VIII was behind them. But on this occasion they found themselves in an untenable situation, given neither the time nor the support they needed to make a competent game even of the dubious type for which Garriott was asking. Ultima VIII would not employ the talents of Raymond Benson, the accomplished wordsmith who had made Ultima VII's script so exceptionally rich and subtle; he was now gone from the company, driven away like many of his peers by the insanely long hours Origin demanded of their employees. Rather than replacing him with another proper writer, Origin cobbled together a collection of programmers, artists, and designers to provide all of its comparatively scant text, most of them doing double duty with their other roles on the project. After all, it was now the age of multimedia action. How much did mere words really matter anymore?
As 1993 wore on, external events heaped more and more pressure on the team. Chris Roberts's latest game Strike Commander appeared in the spring of 1993; it moved his patented Wing Commander approach into the milieu of a near-future techno-thriller. Everyone confidently expected it to become Roberts's latest blockbuster hit, EA's first great dividend on the price of the Origin acquisition. But instead it under-performed relative to expectations; gamers seemed nonplussed by the change in setting, and their computers struggled to meet its high system requirements. Origin would manage to score some successes on a more modest scale in 1993 with other, cheaper Wing Commander spinoffs and an Ultima VII Part Two, but their big cannon for the year had shot a dud. It was now up to Ultima VIII to put smiles on the faces of EA's management.
For all that the EA acquisition certainly was a major factor in the story of Ultima VIII, it's difficult to say for sure how much of the pressure Origin felt was brought directly to bear by their new corporate parent and how much was merely perceived. As we've seen, Richard Garriott hasn't hesitated to chalk the failure of Ultima VIII up to EA's interference, full stop. Yet the actual EA executives in question have vociferously denied micromanaging the project, insisting on the contrary that it was conceived, created, and finally shipped on terms dictated by no one outside of Origin. Even some Origin employees have admitted that EA handled their new charge with a fairly light touch for the first couple of years; it was only after such disappointments as Strike Commander and Ultima VIII had convinced them that adult supervision was sorely needed down in Austin that they took a more hands-on approach. In the end, then, we can say for sure only that the appalling state in which Ultima VIII was released was down to some gradation in between an earnest desire on Origin's behalf to please their parent and a stern dictate from said parent to ship it now, or else!
It must be said as well that the reality of crunch time at Origin prior to Ultima VIII was somewhat different from the rosy picture which Garriott paints above. The bad-cop counterpart to Garriot the lunch-providing good cop was Dallas Snell, Origin's hard-driving production manager. The company's internal newsletters from the early 1990s are littered with complaints about the stresses of crunch time, sometimes accompanied by Snell's strident but unconvincing attempts to defend the practice on the basis of passion, dedication, and esprit de corps. As a result, Raymond Benson was only one of a steady stream of talented people who came to Origin, stayed there a relatively brief period of time, and then moved on to other parts of the games industry or to other industries entirely, having made the perfectly sensible decision that no job is worth sacrificing one's health and general well-being for.
Still, the crunch that produced Ultima VIII was extreme even by Origin's usual standards, and the stress was undoubtedly compounded by the bad vibe of compromise and trend-chasing that had clung to the project from the start. It didn't help that Mike McShaffry had never attempted to manage a software-development project of any sort before; he was completely unequipped to bring any semblance of order to all of the frantic effort, as he freely admits today:
To a lot of people on the development team, Ultima VIII unfortunately was a very negative development experience. Most of the team who were managing Ultima VIII — myself especially — you know, it was our first really big management task, and so…to say I really screwed it up doesn't really come close, I don't think, to the truth.

You can't just put anybody at the helm of an oil tanker and say, "Take it through the strait!" and not expect something really horrible to happen. And Ultima's a big ship to steer, and it was unfortunate that I never had the chance to figure out how to manage a team that large. It took me another ten years to really get better at it.
All of these factors led to Ultima VIII shipping in a state that almost defies critical description; seldom has a game so blatantly unfinished been allowed onto store shelves. The writing is so sparse and unrefined that it often seems like placeholder text, and yet still manages to leave threads dangling and plot holes yawning everywhere; the cloth map that is included in the box bears almost no relation to the world in the game itself, what with so much of the latter having gone missing in action; what's left of the CRPG mechanics are so broken that it's possible to max out your character in less than an hour of play; every place in the game looks the same, being all too clearly built from the same handful of pre-rendered graphics (giant mushrooms everywhere for the win!); every single chest in the game explodes, even if it doesn't contain anything, as if the developers didn't have time to address each one individually and so just set a global flag somewhere; your unresponsive lunk of a character drowns instantly if he falls into two feet of water. Tellingly, the one part of Ultima VII that is painstakingly preserved in Ultima VIII is its most annoying: an impossible inventory-management system that forces you to spend minutes at a time dragging around tiny overlapping icons just to find anything.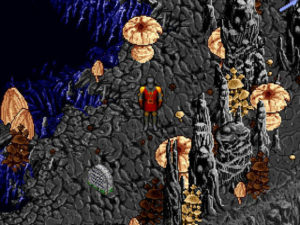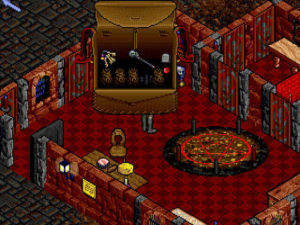 But none of that was quite enough to make the original version of Ultima VIII worthy of the adjective "unplayable." What served for that was the absurdly broken jumping system. Super Mario Bros. and Prince of Persia had been designed for joypads and joysticks. Seeking to translate those paradigms to a moused-based computer, Origin came up with a relativistic jumping system whereby the length of your leap would be determined by the distance the cursor was from your character when you clicked the mouse, rather than opting for the more intuitive solution whereby you simply pointed at and clicked on a would-be destination to attempt to jump there. McShaffry:
I think, for us, it was such a departure from what we were used to. And honestly, a jumping mechanic like what we were trying to do… I think that we just didn't have enough people on the team who were really hardcore platformer players. Something like Mario, where you have an intuitive feel for what works in a jumping system and what doesn't work in a jumping system. I certainly hadn't played a lot of those games until then, and so I honestly didn't know what I was looking for.

Honestly, that's a case where we should have listened a whole lot more to QA. They were platformers! They played every Nintendo console [game] out there, and they came back to us and said, "Hey, this jumping is kind of busted."

I think sometimes in product development we'd get on the high horse and go, "It's not busted; we know what we're doing." And in that case… that was a horrible mistake on our part to not listen to them. But hey, we were in our twenties; when you're in your twenties, you think you've got god-like powers and you're immortal.
In truth, jumping in Ultima VIII wasn't "kind of busted" at all; it was completely, comprehensively busted. Figuring out where any given jump would land you was a black art, thanks to the sloppy mouse cursor and the impossibility of accurately judging depths in the game's canted isometric view. The only way to get anywhere was to save before each jump and give it a try, then reload and adjust until you got it right. After four or five attempts, you might just manage it if you were lucky. Then you got to rinse and repeat for the next jump, out of what might be a dozen or more in all to get across a single obstacle. In order to fully appreciate the horror of all this, you have to remember that every single save or restore would have taken on the order of 30 seconds back in 1994. And now imagine trying to work through this process when some of the platforms you need to jump from and to are moving. On release day, Ultima VIII really was perilously close to being literally unplayable.
In keeping with a tradition dating back to the early 1980s, Richard Garriott, Mike McShaffry, and several other members of the development team turned up on CompuServe for an online conference with fans just a couple of weeks after the game's release. These affairs were heavily moderated, and this prevented the outrage that was already percolating through the fan community from being expressed too aggressively. Nevertheless, the developers quickly learned that this meetup was not to be the usual love fest. Instead they got an earful from the fans:
Let me say that I have been playing Ultimas since I was charmed and amazed by Ultima IV on my Commodore 64. One of the best things about Ultimas was the rich, detailed world and intricate, lengthy storylines. I could look forward to easily over 100 hours with each new Ultima, an excellent value for the money. Ultima VIII, on the other hand, is way too short…

It seems like there were a lot of bugs in Ultima VIII…

I thought the game was a little rough around the edges, especially the jumping. Since many Ultima players don't like the heavy arcade element, are you set on keeping Ultima a CRPG/action game?…

My favorite part of Ultima VII was the large world. I was a little disappointed when I found that the world in Ultima VIII was actually smaller. Will Ultima IX have a larger world and more puzzles that require thinking, as opposed to jumping and running?…

I note with some trepidation your interest/fascination with "action" and "digital speech." I think that too many game companies are spending too many resources on the latest graphics, sounds, etc., and nowhere near enough on character development and story and interaction. Is the swing to action/arcade a marketing-driven decision, your personal [decision], or [down to] some other reason?…

I have noticed a trend toward a single-threaded story line. Any hopes of returning to the original roots with the Ultima IX story line?…

What I and a lot of other old Ultima fans saw disappear after Ultima VII was the great ability to interact. Like baking bread, etc., and I would like to know if you plan for this to return in Ultima IX. And will you pay more attention to the plot?…

I'm concerned about the decline in the Avatar's principles. I spent two days trying to solve Bane and Vordion without breaking my oath…

I am disappointed about the length of Ultima VIII, as others have said. There's too much running around, and the clues to locations are far too vague…

I'm disappointed in Ultima VIII. I've played every single Ultima, and I feel Ultima VIII is a serious step back from previous Ultimas. I hope you realize that it takes more than glitz and sound to make a good CRPG. Lastly, I really do hope you'll fix more bugs. I had to reformat my whole hard drive because of Ultima VIII…

Are we ever going to get various sexes and races of Avatars to choose from again?…
If they didn't know it before, Origin must have realized by the time this conference ended that they had a big, big problem on their hands. The subsequent fan reactions to Ultima VIII were and remain far more entertaining than the game itself; few games have inspired as many unhinged, poetically profane rants as this one. Writing in the fannish newsletter Questbusters, Charles Don Hall struggled to reconcile this awful game with the Lord British cult of personality that so much of hardcore Ultima fandom had always been: "My best guess is that Lord British had nothing at all to do with it, and turned development over to soulless drones who were capable of playing the earlier Ultimas but incapable of understanding what made them such great games."
The glossier magazines weren't quite sure what to do about Ultima VIII. Torn between the need to serve their readerships and Origin's advertising dollars, they equivocated like crazy, often settling on an "it's not the game, it's me" approach: i.e., I didn't much enjoy Ultima VIII, but you might.
The big exception was Computer Gaming World, the most long-lived and respected of all the journals, whose status gave it a degree of insulation from the need to chase advertisers. Scorpia, the magazine's influential adventure-gaming columnist, ripped the game to shreds in her review. I'll share just a few highlights here:
Pagan, the purported Ultima VIII, is unlike any other Ultima you may have played. If you were expecting characterization, rich story, role-playing — you're expecting it from the wrong game…

The game might easily have been called, as a friend of mine put it, "Mario: The Avatar." If the name "Ultima" wasn't on the box, you might think you'd picked up the latest Sega or Nintendo game by mistake…

Pagan could well be subtitled "School Daze," as a good 75 percent of it is having the Avatar prove he is worthy to belong to a particular magic organization. "You want to be a Necromancer? First, you must be tested!" "You want to be a Theurgist? First, you must be tested!" "You want to be a Sorcerer? First you must be tested!"…

The story, such as it is, can be summed up as "Homeward-Bound Avatar Wrecks World…"

[The Avatar] lies to become a Necromancer; joins the Theurgists solely to steal an item (thereby negating their spell-casting abilities); betrays a Sorcerer who trusted him (thereby becoming an accessory to murder); kills (in supposed self-defense) the Master of Sorcerers to obtain another needed item; and frees the two bound Titans, so the world is wracked by continual violent storms and lava rain…

Overall, Pagan is a disaster, and an embarrassment to Origin, Lord British, and Ultima fans everywhere. It tries to go in two directions at once, and succeeds only in tearing itself apart, failing dismally on all fronts…
Instead of giving a smattering of hints and tips for Ultima VIII, as was her wont with the games she reviewed, Scorpia published an outright walkthrough, in order to "help anyone playing it to finish quickly and move on to better things." For the following issue, she wrote a detailed retrospective of Ultima IV, her avowed favorite game of all time, pointing out all the ways in which it was the archetypal Ultima — and, by pointed implication, all of the ways in which Ultima VIII had failed to live up to its legacy.
In that very same issue, Origin offered an unprecedented mea culpa for Ultima VIII. Having clearly decided that this installment was beyond hope, they tried to save the franchise's future by throwing it, and to at least some extent its project leader Mike McShaffry, under the bus. Richard Garriott had, he said, "heard the cry of his fans"; he admitted that "the latest game design had moved too close to action gaming and strayed too far from the strengths of the series." Origin would, they promised, place the rock-steady Warren Spector — the man who had helmed Ultima VI, Martian Dreams, and the two Ultima Underworld games — in charge of Ultima IX. "If," Spector pleaded, "we can get some of our followers who were disappointed in Pagan to try Ultima IX, we don't think they'll be disappointed." In the meantime, an all-but-complete Ultima VIII expansion disk was axed as part of a general desire to forget that the game had ever happened.
One man, however, could not possibly forget. Mike McShaffry says today that he "felt like persona non grata at Origin because I personally felt like I was being blamed for the mistakes." After months of ineffectual bad feelings, he finally decided to do something about it. He took all of the Ultima VIII code home with him over the Thanksgiving weekend of 1994 and, as he puts it, "fixed the jumping myself," replacing the weird system of relative leaps with a simple click-here-to-jump-here approach. Despite their wish to flush the whole thing down the memory hole, Origin agreed to put out a patch incorporating this change and a number of other desperately needed quality-of-life improvements.
It's this version of Ultima VIII that you'll find hosted on digital storefronts today. It's definitely a vast improvement over the original, even taking into account the philosophical objection that it turns the jumping — intended to be a major part of the experience — into a triviality. Much respect to Mike McShaffry for making it; if he hadn't done so, the game's reputation would be even worse today. Even Scorpia took note of the patch in her column, and was prompted to soften her stance toward the game ever so slightly. ("I can't guarantee the game will be more fun, but it will certainly be less frustrating.")
Indeed, it's quite common to hear today that Ultima VIII really wasn't a bad game at all — that it was merely a bad Ultima, in departing way too radically from that series's established traditions. Some fuel for this argument is provided by Crusader: No Remorse and Crusader: No Regret, a pair of science-fiction action games that used the engine developed for Ultima VIII, but were able to do so without the baggage which the Ultima name brought with it. Both were well-received upon their release in 1995 and 1996 respectively, and are still fondly remembered in some circles today. Some have gone so far as to claim that the engine influenced Diablo, Blizzard Entertainment's 1996 mega-hit of a streamlined, story-light action-CRPG.
Still, to say that McShaffry's patch makes a good game out of Ultima VIII strikes me as a leap too far (pun intended). At best, it moves it from unplayable to the lower end of mediocre: the boring environments, uninteresting and/or broken mechanics, poor and sometimes nonexistent writing, and general air of unpleasantness remain unpatched. Ultima VIII is not the misunderstood classic that a few thoroughgoing contrarians would have it be.
Ultima VIII is best studied not as an exercise in game design in the abstract but as an endlessly illustrative sign of its times, showing what happened when the changes being wrought upon the culture of computer gaming by the likes of Wolfenstein 3D and DOOM — not to mention Wing Commander! — collided head-on with one of that culture's traditional standard bearers. In this case, the standard bearer in question would never be the same again. The Ultima IX which certain factions inside Origin were so eager to make as a way of spitting out the bad taste of Ultima VIII would keep getting pushed down in the priority queue after Wing Commander III appeared in late 1994 and finally provided the big hit which Origin had been looking for ever since the EA acquisition. With that event, Wing Commander's takeover of Origin was complete. It would be over two and a half years before gamers would hear the name of Ultima from Origin again.
(Sources: the books Explore Create by Richard Garriott with David Fisher and Dungeons and Dreamers by Brad King and John Borland; Computer Gaming World of March 1994, July 1994, August 1994, and May 1995; Electronic Entertainment of April 1994; Questbusters 111; PC Gamer of May/June 1994; PC Zone of June 1994; Dragon of August 1994; Origin Systems's internal newsletter Point of Origin of December 1993, March 1994, and May 5 1995. Online sources include Sheri Graner Ray's memories of her time at Origin Systems, "The Conquest of Origin" at The Escapist, and the Ultima Codex interviews with Mike McShaffry and Jason Ely. My huge thanks to Judith Pintar for digging up the online CompuServe conference that followed Ultima VIII's release. Note that I've heavily edited the excerpts that are included here for grammar, clarity, and brevity; feel free to download the full, unedited transcript.
Ultima VIII is available as a digital purchase at GOG.com.)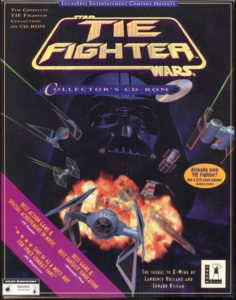 It's all but impossible to overstate the influence that Star Wars had on the first generation of microcomputer games. The fact is, Star Wars and early home computers were almost inseparable — in some odd sense part of the same larger cultural movement, if you will.
The first film in George Lucas's blockbuster trilogy debuted on May 25, 1977, just days before the Apple II, the first pre-assembled personal computer to be marketed to everyday consumers, reached store shelves. If not everyone who loved Star Wars had the money and the desire to buy a computer in the months and years that followed, it did seem that everyone who bought a computer loved Star Wars. And that love in turn fueled many of the games those early adopters made. J.R.R. Tolkien's Lord of the Rings novels and, perhaps more arguably, the Star Trek television and movie franchise are the only other traditional-media properties whose impact on the fictions and even mechanics of early computer games can be compared to that of Star Wars.
And yet licensed takes on all three properties were much less prominent than one might expect from the degree of passion the home-computer demographic had for them. The British/Australian publisher Melbourne House had a huge worldwide hit with their rather strange 1982 text-adventure adaptation of Tolkien's The Hobbit, but never scaled similar heights with any of their mediocre follow-ups. Meanwhile Star Trek wound up in the hands of the software arm of the print publisher Simon & Schuster, who released a series of obtuse, largely text-based games that went absolutely nowhere. And as for Star Wars, the hottest property of them all… ah, therein lies a tale.
---

Like The Lord of the Rings before it, Star Wars was a victim of the times in which its first licensing deals were signed. In the months before the first movie was released, both George Lucas himself and 20th Century Fox, the studio that distributed the film, sought after someone — anyone — who would be willing to make a line of toys to accompany it. They were turned down again and again. Finally, Marc Pevers, Fox's president of licensing, got a nibble from a small toy maker called Kenner Products.
Kenner was owned at that time by the big corporate conglomerate General Mills, who also happened to own Parker Brothers, the maker of such family-board-game staples as Monopoly, Clue, and Sorry!. Thus when Kenner negotiated with Lucas and Fox, they requested that the license cover "toys and [emphasis mine] games," with responsibility for the latter to be kicked over to Parker Brothers. For at this early date, before the release of the Atari VCS videogame console, before even the arrival of Space Invaders in American arcades, "games" meant board games in the minds of everyone negotiating the deal. Indeed, Kenner explicitly promised that at a minimum they would produce four action figures and a "family game" to help prime the pump of a film whose commercial prospects struck just about everyone as highly dubious.
There are conflicting reports as to the other terms of the deal, but it seems most likely that Kenner agreed to pay Lucas and Fox either a 5-percent royalty or a flat $100,000 per year, whichever amount was greater. If Kenner ever failed to pay at least $100,000 in any given year, the arrangement would end immediately. Otherwise, it would go on in perpetuity. It was quite a sweet deal for Kenner by any standard, very much a reflection of the position of weakness from which Fox and Lucas were negotiating; one Kenner employee later joked that they had gotten Star Wars for "$50 and a handshake."
Of course, we all know what happened with that first Star Wars film upon its release a few months after the contract was signed. After a slow start in 1977 while they tooled up to meet the completely unexpected level of demand, Kenner sold 42 million pieces of Star Wars-branded merchandise in 1978 alone; by 1985, the worldwide population of Star Wars action figures was larger than the United States's population of real human beings. Lucas publicly excoriated Marc Pevers for a deal that had cost him "tens of millions," and the two wound up in libel court, the former eventually forced to pay the latter an unspecified sum for his overheated remarks by a settlement arrangement.
Lucas's anger was understandable if not terribly dignified. As if the deal for the toy rights alone wasn't bad enough, Pevers had blithely sold off the videogame rights for a song as well, simply by not demanding more specific language about what kinds of games the phrase "toys and games" referred to. Kenner's first attempt at a Star Wars videogame came already in 1978, in the form of a single-purpose handheld gadget subtitled Electronic Laser Battle. When that didn't do well, the field was abandoned until 1982, when, with the Atari-VCS-fueled first wave of digital gaming at its height, Parker Brothers released three simple action games for the console. Then they sub-contracted a few coin-op arcade games to Atari, who ported them to home consoles and computers as well.
But by the time the last of these appeared, it was 1985, the Great Videogame Crash was two years in the past, and it seemed to the hidebound executives at General Mills that the fad for videogames was over and done with, permanently. Their Star Wars games had done pretty well for themselves, but had come out just a little too late in the day to really clean up. So be it; they saw little reason to continue making them now. It would be six years before another all-new, officially licensed Star Wars videogame would appear in North America, even as the virtual worlds of countless non-licensed games would continue to be filled with ersatz Han Solos and Death Stars.
This state of affairs was made doubly ironic by the fact that Lucasfilm, George Lucas's production company, had started its own games studio already in 1982. For most of its first ten years, the subsidiary known as Lucasfilm Games was strictly barred from making Star Wars games, even as its employees worked on Skywalker Ranch, surrounded with props and paraphernalia from the films. Said employees have often remarked in the years since that their inability to use their corporate parent's most famous intellectual property was really a blessing in disguise, in that it forced them to define themselves in other ways, namely by creating one of the most innovative and interesting bodies of work of the entire 1980s gaming scene. "Not being able to make Star Wars games freed us, freed us in a way that I don't think we understood at the time," says Ron Gilbert, the designer of the Lucasfilm classics Maniac Mansion and The Secret of Monkey Island. "We always felt we had to be making games that were different and pushed the creative edges. We felt we had to live up to the Lucasfilm name." For all that, though, having the Lucasfilm name but not the Star Wars license that ought to go with it remained a frustrating position to be in, especially knowing that the situation was all down to a legal accident, all thanks to that single vaguely worded contract.
If the sequence of events which barred Lucasfilm from making games based on their own supreme leader's universe was a tad bizarre, the way in which the Star Wars rights were finally freed up again was even stranger. By the end of 1980s, sales of Star Wars toys were no longer what they once had been. The Return of the Jedi, the third and presumably last of the Star Wars films, was receding further and further into the rear-view mirror, with nothing new on the horizon to reignite the old excitement for the next generation of children. For the first time, Kenner found themselves paying the guaranteed $100,000 licensing fee to Lucas and Fox instead of the 5-percent royalty.
At the beginning of 1991, Kenner failed to send the aforementioned parties their $100,000 check for the previous year, thereby nullifying the fourteen-year-old contract for Star Wars "toys and games." Fan folklore would have it that the missing check was the result of an accounting oversight; Kenner was about to be acquired by Hasbro, and there was much chaos about the place. A more likely explanation, however, is that Kenner simply decided that the contract wasn't worth maintaining anymore. The Star Wars gravy train had been great while it lasted, but it had run its course.
There was jubilation inside Lucasfilm Games when the staff was informed that at long last they were to be allowed to play in the universe of Star Wars. They quickly turned out a few simple action-oriented titles for consoles, but their real allegiance as a studio was to personal computers. Thus they poured the most effort by far into X-Wing, the first Star Wars game ever to be made first, foremost, and exclusively for computers, with all the extra complexity and extra scope for design ambition which that description implied in those days.
---
The mastermind of X-Wing was a soft-spoken, unassuming fellow named Lawrence Holland, whose path into the industry had been anything but straightforward. His first passion in life had been archaeology and anthropology; he'd spent much of his early twenties working in the field in remote regions of East Africa and India. In 1981, he came to the University of California, Berkeley to study for a doctorate in anthropology. He had never even seen a personal computer, much less played a computer game, until he became roommates with someone who had one. Holland:
I was working as a chef at a restaurant in Berkeley — and I realized I didn't particularly want to do that for the next six years while I worked on my doctorate. At the time, my roommate had an Atari 800, and he was into programming. I thought, "Hey, what a cool machine!" So I finally got a Commodore 64 and spent all my spare time teaching myself how to use it. I'd always wanted to build something, but I just hadn't found the right medium. Computers seemed to me to be the perfect combination of engineering and creativity.
The barriers to entry in the software industry were much lower then than they are today; a bright young mind like Holland with an aptitude and passion for programming could walk into a job with no formal qualifications whatsoever. He eventually dropped out of his PhD track in favor of becoming a staff programmer at HESWare, a darling of the venture capitalists during that brief post-Great Videogame Crash era when home computers were widely expected to become the Next Big Thing after the console flame-out.
While working for HESWare in 1985, Holland was responsible for designing and programming a rather remarkable if not quite fully-realized game called Project: Space Station, a combination of simulation and strategy depicting the construction and operation of its namesake in low Earth orbit. But soon after its release HESWare collapsed, and Holland moved on to Lucasfilm Games. Throughout his many years there, he would work as an independent contractor rather than an employee, by his own choice. This allowed him, as he once joked, to "take classes and keep learning about history and anthropology in my copious spare time."
In writing about the LucasFilm Games of the late 1980s and early 1990s in previous articles, I've focused primarily on the line of graphic adventures which they began in 1987 with Maniac Mansion, stressing how these games' emphasis on fairness made them a welcome and even visionary alternative to the brutality being inflicted upon players by other adventure developers at the time. But the studio was never content to do or be just one thing. Thus at the same time that Ron Gilbert was working on Maniac Mansion, another designer named Noah Falstein was making a bid for the vehicular-simulation market, one of the most lucrative corners of the industry. Lawrence Holland came to Lucasfilm Games to help out with that — to be the technical guy who made Falstein's design briefs come to life on the monitor screen. The first fruit of that partnership was 1987's PHM Pegasus, a simulation of a hydrofoil attack boat; it was followed by a slightly more elaborate real-time naval simulation called Strike Fleet the following year.
With that apprenticeship behind him, Holland was allowed to take sole charge of Battlehawks 1942, a simulation of World War II aerial combat in the Pacific Theater. He designed and programmed the game in barely six months, in time to see it released before the end of 1988, whereupon it was promptly named "action game of the year" by Computer Gaming World magazine. Battlehawks 1942 was followed in 1989 by Their Finest Hour, another winner of the same award, a simulation of the early air war in Europe; it was in turn followed by 1991's Secret Weapons of the Luftwaffe, a simulation of the later years of war there. Each simulator raised the ante over what had come before in terms of budget, development time, and design ambition.
The Early Works of Lawrence Holland
---
---

As I described at some length in a recent article, flight simulators in general tend to age more like unpasteurized milk than fine wine, and by no means is Holland's work in this vein entirely exempt from this rule. Still, in an age when most simulators were emphasizing cutting-edge graphics and ever more complexity over the fundamentals of game design, Holland's efforts do stand out for their interest in conveying historical texture rather than a painstakingly perfect flight model. They were very much in the spirit of what designer Michael Bate, who used a similar approach at a slightly earlier date in games he made for Accolade Software, liked to call "aesthetic simulations of history." Holland:
Flight simulators [had] really focused on the planes, rather than the times, the people, and how the battles influenced the course of the war. [The latter is] what I set out to do. It's become my philosophy for all the sims I've done.

We get letters from former pilots, who say, "Wow! This is great! This is just like I remember it." They're talking about a gut, sensory impression about the realism of flying and interacting with other planes — not the hardcore mathematical models. I've focused on that gut feeling of realism rather than the hardcore mathematical stuff. I've emphasized plane-to-plane engagement, seat-of-the-pants flying. I like to keep the controls as simple as possible, so someone can jump in and enjoy the game. Of course, the more technically accurate the flight model, the more difficult it is to fly. Unless they're really familiar with flight simulators, people tend to be intimidated by having to learn the uses of a bunch of different keys. That makes a game hard to get into. I want them to be able to hop into the cockpit and fly.
In some ways at least, Secret Weapons of the Luftwaffe remains to this day the most ambitious game Lawrence Holland has ever made. At a time when rival flight simulators like Falcon were going micro, attempting to capture a single aircraft with a pedant's obsession for detail, Secret Weapons provided a macro-level overview of the entire European air war following the entry of the United States into the conflict. Holland called it a "kitchen-sink" game: "It's fun and challenging to keep thinking of different ways for the player to interact with the product on different levels." In Secret Weapons, you could pilot any of eight different airplanes, including the experimental German rocket planes and jets that gave the game its misleadingly narrow-sounding name, or even fly as a gunner or bombardier instead of a pilot in a B-17. You could go through flight school, fly a single random mission, a historical mission, or fly a whole tour of duty in career mode. Or you could play Secret Weapons as a strategy game of the Allied bombing campaign against Germany, flying the missions yourself if you liked or letting the computer handle that for you; this part of the game alone was detailed enough that, had it been released as a standalone strategy title by a company like SSI, no one would have batted an eye. And then there were the four (!) expansion packs LucasArts put together, adding yet more airplanes and things to do with them…
Of course, ambition can be a double-edged sword in game design. Although Secret Weapons of the Luftwaffe came together much better in the end than many other kitchen-sink games, it also came in a year late and way over budget. As it happened, its release in late 1991 came right on the heels of the news that Lucasfilm Games was finally going to be allowed to charge into the Star Wars universe. Lawrence Holland's life was about to take another unexpected twist.
---

It isn't hard to figure out why LucasArts — the old Lucasfilm Games adopted the new name in 1992 — might have wished to create a "simulation" of Star Wars space battles. At the time, the biggest franchise in gaming was Origin Systems's Wing Commander series, which itself owed more than a little to George Lucas's films. Players loved the action in those games, but they loved at least equally the storytelling which the series had begun to embrace with gusto in 1991's Wing Commander II. A "real" Star Wars game offered the chance to do both things as well or better, by incorporating both the spacecraft and weapons of the films and the established characters and plot lore of the Star Wars universe.
Meanwhile the creative and technical leap from a simulation of World War II aerial combat to a pseudo-simulation of fictional space combat was shorter than one might initially imagine. The label of space simulator was obviously a misnomer in the strictly literal sense; you cannot simulate something which has never existed and never will. (If at some point wars do move into outer space, they will definitely not be fought anything like this.) Nevertheless, X-Wing would strive to convey that feeling of realism that is the hallmark of a good aesthetic simulation. It wouldn't, in other words, be an arcade game like the Star Wars games of the previous decade.
In point of fact, George Lucas had aimed to capture the feel of World War II dogfighting in his movies' action sequences, to the point of basing some shots on vintage gun-camera footage. It was thus quite natural to build X-Wing upon the technology last seen in Secret Weapons of the Luftwaffe. You would have to plan your attacks with a degree of care, would have to practice some of the same tactics that World War II fighter pilots employed, would even have to manage the energy reserves of your craft, deciding how much to allocate to guns, shields, and engines at any given juncture.
Still working with LucasArts as an independent contractor, Holland hired additional programmers Peter Lincroft and Edward Kilham — the former had also worked on Secret Weapons of the Luftwaffe — to help him out with the project. LucasArts's in-house staff of artists and composers saw to the audiovisual assets, and their in-house designers developed most of the missions. With the struggle that his last game had been still high in his memory, and knowing all too well that LucasArts's first Star Wars computer game needed to be released in a timely fashion if it was to compete with the Wing Commander juggernaut, Holland abandoned any thoughts of dynamic campaigns or overarching strategic layers in favor of a simple series of set-piece missions linked together by a pre-crafted story line — exactly the approach that had won so much commercial success for Wing Commander. In fact, Holland simplified the Wing Commander approach even further, by abandoning its branching mission tree in favor of a keep-trying-each-mission-until-you-win-it methodology. (To be fair, market research proved that most people played Wing Commander this way anyway…)
---
X-Wing's not-so-secret weapon over its great rival franchise was and is, to state it purely and simply, Star Wars. Right from the iconic flattened text crawl that opens the game, accompanied by the first stirring chords of John Williams's unforgettable theme music, it looks like Star Wars, sounds like Star Wars, feels like Star Wars. The story it tells is interwoven quite deftly with the plot of the first film. It avoids the slightly ham-handed soap-opera story lines which Wing Commander loves to indulge in in favor of a laser focus on the real business at hand: the destruction of the Death Star. Whereas Wing Commander, with its killer alien cats and all the rest, never rises much above the level of earnest fan fiction, X-Wing is… well, it certainly isn't great literature, any more than the films upon which it's based are profound drama, but it is solidly crafted pulp fiction for the kid in all of us, and this quality makes it exactly like the aforementioned films. Playing it really does feel like jumping into one of them.
But X-Wing also has an Achilles heel that undoes much of what it does so well, a failing that's serious enough that I have trouble recommending the game at all: its absolutely absurd level of difficulty. As you advance further in the game, its missions slowly reveal themselves to be static puzzles to be solved rather than dynamic experiences. There's just one way to succeed in the later missions in particular, just one "correct" sequence of actions which you must carry out perfectly. You can expect to fly each mission over and over while you work out what that sequence is. This rote endeavor is the polar opposite of the fast-paced excitement of a Star Wars film. As you fail again and again, X-Wing gradually becomes the one thing Star Wars should never be: it becomes boring.
There's a supreme irony here: LucasArts made their name in adventure games by rejecting the idea that the genre must necessarily entail dying over and over and, even worse, stumbling down blind alleys from which you can never return without restoring or restarting. But with X-Wing, the company famous for "no deaths and no dead ends" delivered a game where you could effectively lock yourself out of victory in the first minute of a mission. It's hard to conceive of why anyone at LucasArts might have thought this a good approach. Yet Computer Gaming World's Chris Lombardi was able to confirm in his eventual review of the game that the punishing mission design wasn't down to some colossal oversight; it was all part of the plan from the beginning.
Through an exchange with LucasArts, I've learned from them that the missions were designed as puzzles to be figured out and solved. This is entirely accurate. The tougher missions have a very specific "solution" that must be executed with heroic precision. Fly to point A, knock out fighters with inhuman accuracy, race to point B, knock out bombers with same, race to point C, to nip off a second bomber squadron at the last possible second. While this is extremely challenging and will make for many hours of play, I'm not convinced that it's the most effective design possible. It yanks [the player] out of the fiction of the game when he has to play a mission five times just to figure out what his true objective is, and then to play the next dozen times trying to execute the path perfectly.

Often, success requires [the player] to anticipate the arrival of enemy units and unrealistically race out into space to meet a "surprise" attack from the Empire. It's all a matter of balance, young Jedi, and on the sliding scale of Trivially Easy to Joystick-Flinging Frustration, X-Wing often stumbles awkwardly toward the latter. From the reviewer's high ground of hindsight, it seems a player-controlled difficulty setting might have been a good solution.
Despite this tragic flaw lurking at its mushy center, X-Wing was greeted with overwhelmingly positive reviews and strong sales upon its release in March of 1993. For, if X-Wing left something to be desired as a piece of game design, the timing of its release was simply perfect.
The game hit the scene in tandem with a modest but palpable resurgence of interest in Star Wars as a whole. In 1991 — just as Kenner Products was deciding that the whole Star Wars thing had run its course — Timothy Zahn had published Heir to the Empire, the first of a new trilogy of Star Wars novels. There had been Star Wars books before, of course, but Zahn's trilogy was unique in that, rather than having to confine himself to side stories so as not to interfere with cinematic canon, its author had been given permission by George Lucas to pick up the main thread of what happened after Return of the Jedi. Everyone who read the trilogy seemed to agree that it represented a very credible continuation indeed, coming complete with an arch-villain, one Imperial Grand Admiral Thrawn, who was almost as compelling as Darth Vader. All three books — the last of them came out in 1993, just after X-Wing — topped genre-fiction bestseller lists. Star Wars was suddenly having a moment again, and X-Wing became a part of that, both as beneficiary and benefactor. Many of the kids who had seen the films multiple times each in theaters and carried Star Wars lunchboxes with them to school were now in their early twenties, the sweet spot of the 1993 computer-game demographic, and were now feeling the first bittersweet breaths of nostalgia to blow through their young lives, even as they were newly awakened to the potential of space simulators in general by the Wing Commander games. How could X-Wing not have become a hit?
The people who had made the game weren't much different from the people who were now buying it in such gratifying numbers. Zahn's novels were great favorites of Holland and his colleagues as well, so much so that, when the time came to plan the inevitable sequel to X-Wing, they incorporated Admiral Thrawn into the plot. In the vastly superior game known as TIE Fighter, which takes places concurrently with the second Star Wars film, a younger Thrawn appears in the uneasy role of subordinate to Darth Vader.
---

Indeed, it's difficult to imagine TIE Fighter, which dares to place you in the role of a pilot for the "evil" Empire, ever coming to exist at all without the Zahn novels. For it was Zahn's nuanced, even sympathetic portrayal of Thrawn, and with it his articulation of an ideology for the Empire that went beyond doing evil for the sake of it, that first broadened the moral palette of the Star Wars universe to include shades of gray in addition to black and white. Zahn's version of the Empire is a rather fussily bureaucratic entity that sees itself as tamping down sectarianism and maintaining law and order in the galaxy in the interest of the greater good, even if the methods it is sometimes forced to employ can be regrettably violent. The game took that interpretation and ran with it. Holland:
Our approach is that the propaganda machines are always running full-blast during warfare. So far, the propaganda we've been exposed to has been from the Rebels. But in warfare, neither side is always clean, and both sides can take the moral high ground. So we're trying to blur the moral line a little bit and give the Empire a soapbox to communicate its mission: the restoration of peace and order.

For instance, there's a lot of civil war going on. The fighting planets are lost in their hate and don't have the galactic perspective the Empire can provide. In this regard, the Empire feels it can serve to stop these conflicts. Within the Empire there are a lot of people — like the pilot the player portrays — who have an honorable objective.
At the risk of putting too fine a point on it: I would hardly be the first Internet scribe to note that the established hegemony of developed Western nations in our own world resembles the Empire far more than the Rebel Alliance, nor that the Rebel freedom fighters bear a distinct similarity to some of the real-world folks we generally prefer to call terrorists.
TIE Fighter casts you as a pilot of good faith who earnestly believes in the Empire's professed objective of an orderly peace and prosperity that will benefit everyone. In order to capture some of the murderous infighting that marks the highest levels of the Imperial bureaucracy in both the movies and Zahn's novels, as well as to convey some of the moral rot taking cover beneath the Empire's professed ideology, the game introduces a mysterious agent of the emperor himself who lurks in the shadows during your mission briefings, to pull you aside afterward and give you secret objectives that hint of machinations and conspiracies that are otherwise beyond your ken. In the end, you find yourself spending almost as much time fighting other factions of the Empire as you do Rebels — which does rather put the lie to the Empire's claim that only it can provide a harmonious, orderly galaxy, but so be it.
What really makes TIE Fighter so much better than its predecessor is not the switch in perspective, brave and interesting though it may be, but rather the fact that it so comprehensively improves on X-Wing at the level of the nuts and bolts of game design. It's a fine example of a development team actually listening to players and reviewers, and then going out and methodically addressing their complaints. In the broad strokes, TIE Fighter is the same game as X-Wing: the same linear series of missions to work through, the same basic set of flight controls, a different but similarly varied selection of spacecraft to learn how to employ successfully. It just does everything that both games do that much better than its predecessor.
Take, for example, the question of coordinating your tactics with your wingmen and other allies. On the surface, the presence of friends as well as foes in the battles you fight is a hallmark not just of X-Wing but of the Wing Commander games that came before it, being embedded into the very name of the latter series. Yet your helpmates in all of those games are, as Chris Lombardi put it in his review of X-Wing, "about as useful as a rowboat on Tatooine." Players can expect to rack up a kill tally ten times that of their nearest comrade-in-arms.
TIE Fighter changes all that. It presents space battles that are far more complex than anything seen in a space simulator before it, battles where everyone else flies and fights with independent agency and intelligence. You can't do everything all by yourself anymore; you have to issue real, substantive orders to the pilots you command, and obey those orders that are issued to you. Many reviewers of TIE Fighter have pointed out how well this ethos fits into that of a hyper-organized, hyper-disciplined Imperial military, as opposed to the ramshackle individual heroism of the Rebel Alliance. And it's certainly a fair point, even if I suspect that the thematic resonance may be more a happy accident than a conscious design choice. But whatever the reasons behind it, it lends TIE Fighter a different personality. Instead of being the lone hero who has to get everything done for yourself, you feel like a part of a larger whole.
For the developers, the necessary prerequisites to success with this new philosophy were an improved technical implementation and improved mission design in comparison to those of X-Wing. In addition to the audiovisual evolution that was par for the course during this fast-evolving era of computing — the 3D models are now rendered using Gouraud shading — TIE Fighter gives you a whole range of new views and commands to make keeping track of the overall flow of battle, keeping tabs on your allies, and orienting yourself to your enemies much easier than in X-Wing. Best of all, it abandons the old puzzle-style missions in favor of the unfolding, dynamic battlescapes we were missing so keenly last time. It does you the small but vital kindness of telling you which mission objectives have been completed and which still need to be fulfilled, as well as telling you when a mission is irrevocably failed. It also introduces optional objectives, so that casual players can keep the story going while completists try to collect every last point. And it has three difficulty levels to choose from rather than being permanently stuck on "Hard."
TIE Fighter was released in July of 1994, five months before the long-awaited Wing Commander III, a four-CD extravaganza featuring a slate of established actors onscreen, among them Mark Hamill, Mr. Luke Skywalker himself. LucasArts's game might have seemed scanty, even old-fashioned by comparison; it didn't even ship on the wundermedium of CD at first, but rather on just five ordinary floppy disks. Yet it sold very well, and time has been much kinder to it than it has to Origins's trendier production, which now seems somehow more dated than the likes of Pong. TIE Fighter, on the other hand, remains what it has always been: bright, pulpy, immersive, exciting, Star Warsy fun. It's still my favorite space simulator of all time.
TIE Fighter
---
---

Both X-Wing and TIE Fighter later received a "collector's edition" on CD-ROM, which added voice acting everywhere and support for higher-resolution Super VGA graphics cards, and also bundled in a lot of additional content, in the form of the two expansions that had already been released for X-Wing, the single TIE Fighter expansion, and some brand new missions. These are the versions you'll find on the digital storefronts of today.
Time has added a unique strain of nostalgia to these and the other early LucasArts Star Wars games. During their era there was still an innocent purity to Star Wars which would be lost forever when George Lucas decided to revive the franchise on the big screen at decade's end. Those "prequel" films replaced swashbuckling adventure with parliamentary politics, whilst displaying to painful effect Lucas's limitations as a director and screenwriter. In so thoroughly failing to recapture the magic of what had come before, they have only made memories of the freer, breezier Star Wars of old burn that much brighter in the souls of old-timers like me. LucasArts's 1990s Star Wars games were among the last great manifestations of that old spirit. The best few of them at least — a group which most certainly includes TIE Fighter — remain well worth savoring today.
(Sources: the books How Star Wars Conquered the Universe by Chris Taylor, Droidmaker: George Lucas and the Digital Revolution by Michael Rubin, and the X-Wing and TIE Fighter Collector's Edition strategy guides by Rusel DeMaria, David Wessman, and David Maxwell; Game Developer of February/March 1995 and April/May 1995; Compute! of March 1990; Computer Gaming World of April 1988, November 1988, October 1989, January 1990, September 1990, December 1990, November 1991, February 1992, September 1992, June 1993, October 1993, February 1994, October 1994, and July 1995; PC Zone of April 1993; Retro Gamer 116; LucasArts's customer newsletter The Adventurer of Fall 1990, Spring 1991, Fall 1991, Spring 1992, Fall 1992, Spring 1993, and Summer 1994; Seattle Times of December 25 2017; Fortune of August 18 1997. Also useful was the Dev Game Club podcast's interview with Lawrence Holland on January 11, 2017.
X-Wing and TIE Fighter are available as digital purchases on GOG.com.)