Monthly Archives:
March 2021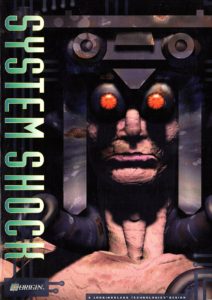 We approached games as immersive simulations. We wanted to build game environments that reacted to player's decisions, that behaved in natural ways, and where players had more verbs than simply "shoot." DOOM was not an influence on System Shock. We were trying something more difficult and nuanced, [although] we still had a lot of respect for the simplicity and focus of [the id] games. There was, to my recollection, a vague sense of fatalism about the parallel tracks the two companies were taking, since it was clear early on that id's approach, which needed much less player education and which ran on adrenaline rather than planning and immersion, was more likely to be commercially successful. But we all believed very strongly in Looking Glass's direction, and were proud that we were taking games to a more cerebral and story-rich place.

— Dorian Hart

We hope that our toiling now to make things work when it is still very hard to do effectively will mean that when it is easier to do, we can concentrate on the parts of the game that are less ephemeral than polygons per second, and distinguish ourselves by designing detailed and immersive environments which are about more than just the technology.

— Doug Church
In late 1992, two separate studios began working on two separate games whose descriptions sound weirdly identical to one another. Each was to make you the last human survivor on a besieged space station. You would roam its corridors in real time in an embodied first-person view; both studios prided themselves on their cutting-edge 3D graphics technology. As you explored, you would have to kill or be killed by the monsters swarming the complex. Yet wresting back control of the station would demand more than raw firepower: in the end, you would have to outwit the malevolent intelligence behind it all. Both games were envisioned as unprecedentedly rich interactive experiences, as a visceral new way of living through an interactive story.
But in the months that followed, these two projects that had started out so conceptually similar diverged dramatically. The team that was working on DOOM at id Software down in Dallas, Texas, decided that all of the elaborate plotting and puzzles were just getting in the way of the simpler, purer joys of blowing away demons with a shotgun. Lead programmer John Carmack summed up id's attitude: "Story in a game is like story in a porn movie. It's expected to be there, but it's not that important." id discovered that they weren't really interested in making an immersive virtual world; they were interested in making an exciting game, one whose "gameyness" they felt no shame in foregrounding.
Meanwhile the folks at the Cambridge, Massachusetts-based studio Looking Glass Technologies stuck obstinately to their original vision. They made exactly the uncompromising experience they had first discussed, refusing to trade psychological horror in for cheaper thrills. System Shock would demand far more of its players than DOOM, but would prove in its way an even more rewarding game for those willing to follow it down the moody, disturbing path it unfolded.
It was in this moment, then, that the differences between id and Looking Glass, the yin and the yang of 1990s 3D-graphics pioneers, became abundantly clear.
---

Looking Glass arrived at their crossroads moment just as they were completing their second game, Ultima Underworld II. Both it and its predecessor were first-person fantasy dungeon crawls set in and around Britannia, the venerable world of the Ultima CRPG series to which their games served as spinoffs. And both were very successful, so much so that they almost overshadowed Ultima VII, the latest entry in the mainline series. Looking Glass's publisher Origin Systems would have been happy to let them continue making games in this vein for as long as their customers kept buying them.
But Looking Glass, evincing the creative restlessness that would define them throughout their existence, was ready to move on to other challenges. In the months immediately after Ultima Underworld II was completed, the studio's head Paul Neurath allowed his charges to start three wildly diverse projects on the back of the proceeds from the Underworld games, projects which were unified only by their heavy reliance on 3D graphics. One was a game of squad-level tactical combat called Terra Nova, another a civilian flight simulator called Flight Unlimited. And the third — actually, the first of the trio to be officially initiated — was System Shock.
Doug Church, the driving creative force behind Ultima Underworld, longed to create seamless interactive experiences, where you didn't so much play a game as enter into its world. The Underworld games had been a big step in that direction within the constraints of the CRPG form, thanks to their first-person, free-scrolling perspective, their real-time gameplay, and, not least, the way they cast you in the role of a single embodied dungeon delver rather than that of the disembodied manager of a whole party of them. But Church believed that there was still too much that pulled you out of their worlds. Although the games were played entirely from a single screen, which itself put them far ahead of most CRPGs in terms of immediacy, you were still switching constantly from mode to mode within that screen. "I felt that Underworld was sort of [four] different games that you played in parallel," says Church. "There was the stats-based game with the experience points, the inventory-collecting-and-managing game, the 3D-moving-around game, and there was the talking game — the conversation-branch game." What had seemed so fresh and innovative a couple of years earlier now struck Church as clunky.
Ironically, much of what he was objecting to is inherent to the CRPG form itself. Aficionados of the genre find it endlessly enjoyable to pore over their characters' statistics at level-up time, to min-max their equipment and skills. And this is fine: the genre is as legitimate as any other. Yet Church himself found its cool intellectual appeal, derived from its antecedents on the tabletop which had no choice but to reveal all of their numbers to their players, to be antithetical to the sort of game that he wanted to make next:
In Underworld, there was all this dice rolling going on off-screen basically, and I've always felt it was kind of silly. Dice were invented as a way to simulate swinging your sword to see if you hit or miss. So everyone builds computer games where you move around in 3D and swing your sword and hit or miss, and then if you hit you roll some dice to simulate swinging a sword to decide if you hit or miss. How is anyone supposed to understand unless you print the numbers? Which is why, I think, most of the games that really try to be hardcore RPGs actually print out, "You rolled a 17!" In [the tabletop game of] Warhammer when you get a five-percent increase and the next time you roll your attack you make it by three percent, you're all excited because you know that five-percent increase is why you hit. In a computer game you have absolutely no idea. And so we really wanted to get rid of all that super opaque, "I have no idea what's going on" stuff. We wanted to make it so you can watch and play and it's all happening.
So, there would be no numbers in his next game — no character levels, no character statistics, not even quantifiable hit points. There would just be you, right there in the world, without any intervening layers of abstraction.
Over the course of extensive discussions involving Doug Church himself, Paul Neurath, Looking Glass designer and writer Austin Grossman, and their Origin Systems producer Warren Spector, it was decided to make a first-person science-fiction game with distinct cyberpunk overtones, pitting you against an insane computer known as SHODAN. Cyberpunk was anything but a novelty in the games of the 1990s, a time when authors like William Gibson, Bruce Sterling, and Neal Stephenson all occupied prominent places on the genre-fiction bestseller charts and the game developers who read their novels rushed to bring their visions to life on monitor screens. Still, cyberpunk would suit Looking Glass's purposes unusually perfectly by presenting a credible explanation for the diegetic interface Church was envisioning. You would play a character with a neural implant that let you "see" a heads-up display sporting a life bar for yourself, an energy bar for your weapons and other hardware, etc. — all of it a part of the virtual world rather than external to it. When you switched between "modes," such as when bringing up the auto-map or your inventory display, it would be the embodied you who did so in the virtual world, not that other you who sat in front of the computer telling a puppet what to do next.
Dissatisfied with what he saw as the immersion-killing conversation trees of Ultima Underworld, Church decided to get rid of two-way conversation altogether. When the game began, there would be enticing signs that other humans were still alive somewhere on the space station, but you would be consistently too late to reach them; you would encounter them only as the zombies SHODAN turned them into after death. Of course, all of this too was highly derivative, and on multiple levels at that. Science-fiction fans had been watching their heroes take down out-of-control computers since the original Star Trek television series if not before; "I don't think if you wrote the novel [of System Shock] it would fly off the shelves," admits Church. Likewise, computer games had been contriving ways to place you in deserted worlds, or in worlds inhabited only by simple-minded creatures out for your blood, for as long as said games had existed, always in order to avoid the complications of character interaction; the stately isolation of the mega-hit adventure game Myst was only the most recent notable example of the longstanding tradition at the time System Shock was in development.
But often it's not what you do in any form of media, it's how well you do it. And System Shock does what it sets out to do very, very well indeed. It tells a story of considerable complexity and nuance through the artifacts you find lying about as you explore the station and the emails you receive from time to time, allowing you to piece it all together for yourself in nonlinear fashion. "We wanted to make the plot and story development of System Shock be an exploration as well," says Church, "and that's why it's all in the logs and data, so then it's very tied into movement through the spaces."
Moving through said spaces, picking up bits and pieces of the horrible events which have unfolded there, quickly becomes highly unnerving. The sense of embodied realism that clings to every aspect of the game is key to the sense of genuine, oppressive fear it creates in its player. Tellingly, Looking Glass liked to call System Shock a "simulation," even though it simulates nothing that has ever existed in the real world. The word is rather shorthand for its absolute commitment to the truth — fictional truth, yes, but truth nevertheless — of the world it drops you into.
Story is very important to System Shock — and yet, in marked contrast to works in the more traditionally narrative-oriented genre of the adventure game, its engine also offers heaps and heaps of emergent possibility as you move through the station discovering what has gone wrong here and, finally, how you might be able to fix it. "It wasn't just, 'Go do this sequence of four things,'" says Church. "It was, 'Well, there are going to be twelve cameras here and you gotta take out eight of them. Figure it out.' We [also] gave you the option [of saying], 'I don't want to fight that guy. Okay, maybe I can find another way…'"
Thus System Shock manages the neat trick of combining a compelling narrative with a completely coherent environment that never reduces you to choosing from a menu of options, one where just about any solution for any given problem that seems like it ought to work really does work. Just how did Looking Glass achieve this when so many others before and since have failed, or been so daunted by the challenges involved that they never even bothered to try? They did so by combining technical excellence with an aesthetic sophistication to which few of their peers could even imagine aspiring.
Just as the 3D engine that powers Ultima Underworld is more advanced than the pseudo-3D of id's contemporaneous Wolfenstein 3D, the System Shock engine outdoes DOOM in a number of important respects. The enormous environments of System Shock curve over and under and around one another, complete with sloping floors everywhere; lighting is realistically simulated; you can jump and crouch and look up and down and lean around corners; you can take advantage of its surprisingly advanced level of physics simulation in countless ingenious ways. System Shock even boasts perspective-correct texture mapping, a huge advance over Ultima Underworld, and no easy thing to combine with the aforementioned slopes.
That said, it's also abundantly true that a more advanced engine doesn't automatically make for a better game. Any such comparison must always carry an implied addendum: better for whom? Certainly DOOM succeeded beautifully in realizing its makers' ambitions, even as its more streamlined engine could run well on many more of the typical computers of the mid-1990s than System Shock's could. By no means do the engines' respective advantages all run one way: in addition to being much faster than the System Shock engine, the DOOM engine allows rooms of arbitrary sizes and non-orthogonal walls, neither of which is true of its counterpart from Looking Glass.
In the end, System Shock wants to be a very different experience than DOOM, catering to a different style of play, and its own engine is designed to allow it to realize its own ambitions. It demands a more careful approach from its player, where you must constantly use light and shadow, walls and obstacles, to aid you in your desperate struggle. For you are not a superhuman outer-space marine in System Shock; you're just, well, you, scared and alone in a space station filled with rampaging monsters.
A fine example of the lengths to which Looking Glass's technologists were willing to go in the service of immersion is provided by the mini-games you can play. Inspired by, of all things, the similarly plot-irrelevant mini-games found in the LucasArts graphic adventure Sam and Max Hit the Road, they contribute much more to the fiction in this case than in that other one. As with everything in System Shock, the mini-games are not external to the world of the main game. It's rather you playing them through your neural implant right there in the world; it's you who cowers in a safe corner somewhere, trying to soothe your soul with a quick session of Breakout or Missile Command. You get the chance to collect more and better games as you infiltrate the station's computer network using the cyberspace jacks you find scattered about — a reward of sorts for a forlorn hacker trying to survive against an all-powerful entity and her horrifying minions.
Sean Barret, a programmer who came to Looking Glass and to the System Shock project well into the game's development, implemented the most elaborate by far of the mini-games, a gentle satire of Origin Systems's Wing Commander that goes under the name of Wing 0. The story of its creation is a classic tale of Looking Glass, a demonstration both of the employees' technical brilliance and their insane levels of commitment to the premises of their games. Newly arrived on the team and wishing to make a good impression, Barrett saw a list of mini-game ideas on a whiteboard; a "Wing Commander clone" was among them. So, he set to work, and some days later presented his creation to his colleagues. They were as shocked as they were delighted; it turned out that the Wing Commander clone had been a joke rather than a serious proposal. In the end, however, System Shock got its very own Wing Commander after all.
Still, there were many other technically excellent and crazily dedicated games studios in the 1990s, just as there are today. What truly set Looking Glass apart was their interest in combining the one sort of intelligence with another kind that has not always been in quite so great a supply in the games industry.
As Looking Glass grew, Paul Neurath brought some very atypical characters into the fold. Already in late 1991, he placed an advertisement in the Boston Globe for a writer with an English degree. He eventually hired Austin Grossman, who would do a masterful job of scattering the puzzle pieces of Doug Church's story outline around the System Shock space station. There soon followed another writer with an English degree, this one by the name of Dorian Hart, who would construct some of the station's more devious internal spaces using the flair for drama which he had picked up from all of the books he had read. He was, as he puts it, "a liberal-arts nobody with no coding skills or direct industry experience, thrown onto arguably the most accomplished and leading-edge videogame production team ever assembled. It's hard to explain how unlikely that was, and how fish-out-of-water I felt." Nevertheless, there he was — and System Shock was all the better for his presence.
Another, even more unlikely set of game developers arrived in the persons of Greg LoPiccolo and Eric and Terri Brosius, all members of a popular Boston rock band known as Tribe, who had been signed to a major label amidst the Nirvana-fueled indie-rock boom of the early 1990s, only to see the two albums they recorded fail to duplicate their local success on a national scale. They were facing a decidedly uncertain future when Doug Church and Dan Schmidt — the latter being another Looking Glass programmer, designer, and writer — showed up in the audience at a Tribe show. They loved the band's angular, foreboding songs and arrangements, they explained afterward, and wanted to know if they'd be interested in doing the music for a science-fiction computer game that would have much the same atmosphere. Three members of the band quickly agreed, despite knowing next to nothing about computers or the games they played. "Being young, not knowing what would happen next, that was part of the magic," remembers Eric Brosius. "We were willing to learn because it was just an exciting time."
Terri Brosius became the voice of SHODAN, a role that fell to her by default: artificial intelligences in science fiction typically spoke in a female voice, and she was the only woman to be found among the Looking Glass creative staff. But however she got the part, she most definitely made it her own. She laughs that "people tend to get freaked out" when they hear her speak today in real life. And small wonder: her glitchy voice ringing through the empty corridors of the station, dripping with sarcastic malice, is one of the indelible memories that every player of System Shock takes away with her. Simply put, SHODAN creeps you the hell out. "You had a recurring, consistent, palpable enemy who mattered to you," notes Doug Church — all thanks to Austin Grossman's SHODAN script and Terri Brosius's unforgettable portrayal of her.

As I think about the combination of technical excellence and aesthetic sophistication that was Looking Glass, I find one metaphor all but unavoidable: that of Looking Glass as the Infocom of the 1990s. Certainly Infocom, their predecessors of the previous decade on the Boston-area game-development scene, evinced much the same combination — the same thoroughgoing commitment to excellence and innovation in all of their forms — during their own heyday. If the 3D-graphics engines of Looking Glass seem a long way from the text and parsers of Infocom, let that merely be a sign of just how much gaming itself had changed in a short span of time. Even when we turn to more plebeian matters, there are connections to be found beyond a shared zip code. Both studios were intimately bound up with MIT, sharing in the ideas, personnel, and, perhaps most of all, the culture of the university; both had their offices on the same block of CambridgePark Drive; two of Looking Glass's programmers, Dan Schmidt and Sean Barrett, later wrote well-received textual interactive fictions of their own. The metaphor isn't ironclad by any means; Legend Entertainment, founded as it was by former Infocom author Bob Bates and employing the talents of Steve Meretzky, is another, more traditionalist answer to the question of the Infocom of the 1990s. Still, the metaphor does do much to highlight the nature of Looking Glass's achievements, and their importance to the emerging art form of interactive narrative. Few if any studios were as determined to advance that art form as these two were.
But Looking Glass's ambitions could occasionally outrun even their impressive abilities to implement them, just as could Infocom's at times. In System Shock, this overreach comes in the form of the sequences that begin when you utilize one of those aforementioned cyberspace jacks that you find scattered about the station. System Shock's cyberspace is an unattractive, unwelcoming place — and not in a good way. It's plagued by clunky controls and graphics that manage to be both too minimalist and too garish, that are in fact almost impossible to make head or tail of. The whole thing is more frustrating than fun, not a patch on the cyberspace sequences to be found in Interplay's much earlier computer-game adaption of William Gibson's breakthrough novel Neuromancer. So, it turns out that even the collection of brilliant talent that was assembled at Looking Glass could have one idea too many. Doug Church:
We thought [that] it fit from a conceptual standpoint. You're a hacker; shouldn't you hack something? We thought it would be fun to throw in a different movement mode that was more free-form, more action. In retrospect, we probably should have either cut it or spent more time on it. There is some fun stuff in it, but it's not as polished as it should be. But even so, it was nice because it at least reinforced the idea that you were the hacker, in a totally random, arcadey, broken kind of way. But at least it suggested that you're something other than a guy with a gun. We were looking at ourselves and saying, "Oh, of course we should have cyberspace! We're a cyberpunk game, we gotta have cyberspace! Well, what can we do without too much time? What if we do this crazy thing?" Off we went…
By way of compounding the problem, the final confrontation with SHODAN takes place… in cyberspace. This tortuously difficult and thoroughly unfun finale has proven to be too much for many a player, leaving her to walk away on the verge of victory with a terrible last taste of the game lingering in her mouth.
Luckily, it's possible to work around even this weakness to a large extent, thanks to another of the generous affordances which Looking Glass built into the game. You can decide for yourself how complex and thus how difficult you wish the game to be along four different axes: Combat (the part of the game that is most like DOOM); Mission (the non-combat tasks you have to accomplish to free the station from SHODAN's grip); Puzzle (the occasional spatial puzzles that crop up when you try to jigger a lock or the like); and Cyber (the cyberspace implementation). All of these can be set to a value between zero and three, allowing you to play System Shock as anything from a straight-up shooter where all you have to do is run and gun to an unusually immersive and emergent pure adventure game populated only by "feeble" enemies who "never attack first." The default experience sees all of these values set at two, and this is indeed the optimal choice in my opinion for those who don't have a complete aversion to any one of the game's aspects — with one exception: I would recommend setting Cyber to one or even zero in order to save yourself at lot of pain, especially at the very end. (The ultimate challenge for System Shock veterans, on the other hand, comes by setting the Mission value to three; this imposes a time limit on the whole game of about seven hours.)
System Shock was released in late 1994, almost two full years after Ultima Underworld II, Looking Glass's last game. It sold acceptably but not spectacularly well for a studio that was already becoming well-acquainted with the financial worries that would continue to dog them for the rest of their existence. Reviews were quite positive, yet many of the authors of same seemed barely to have noticed the game's subtler qualities, choosing to lump it in instead with the so-called "DOOM clones" that were beginning to flood the market by this point, almost a year after the original DOOM's release. (One advantage of id Software's more limited ambitions for their game was the fact that it was finished much, much quicker than System Shock; in fact, a DOOM II was already on store shelves by the time System Shock made it there.)
Although everyone at Looking Glass took the high road when asked about the DOOM connection, the press and public's tendency to diminish their own accomplishment in 3D virtual-world-building had to rankle at some level; former employees insist to this day that DOOM had no influence whatsoever on their own creation, that System Shock would have turned out the same even had DOOM never existed. The fact is, Looking Glass's own claim to the title of 3D-graphics pioneers is every bit as valid as that of id, and their System Shock engine actually was, as we've seen, more advanced than that of DOOM in a number of ways. No games studio in history has ever deserved less to be treated as imitators rather than innovators.
Alas, mainstream appreciation would be tough to come by throughout the remaining years of Looking Glass's existence, just as it had sometimes been for Infocom before them. A market that favored the direct, visceral pleasures of id's DOOM and, soon, Quake didn't seem to know quite what to do with Looking Glass's more nuanced 3D worlds. And so, yet again as with Infocom, it would not be until after Looking Glass was no more that the world of gaming would come to fully appreciate everything they had achieved. When asked pointedly about the sales charts which his games so consistently failed to top, Doug Church showed wisdom beyond his years in insisting that the important thing was just to earn enough back to make the next game.
id did a great job with [DOOM]. And more power to them. I think you want to do things that connect with the market and you want to do things that people like and you want to do things that get seen. But you also want to do things you actually believe in and you personally want to do. Hey, if you're going to work twenty hours a day and not get paid much money, you might as well do something you like. We were building the games we were interested in; we had that luxury. We didn't have spectacular success and a huge win, but we had enough success that we got to do some more. And at some level, at least for me, sure, I'd love to have huge, huge success. But if I get to do another game, that's pretty hard to complain about.
Today, free of the vicissitudes of an inhospitable marketplace, System Shock more than speaks for itself. Few games, past or present, combine so many diverse ideas into such a worthy whole, and few demonstrate such uncompromising commitment to their premise and their fiction. In a catalog filled with remarkable achievements, System Shock still stands out as one of Looking Glass's most remarkable games of all, an example of what magical things can happen when technical wizardry is placed in the service of real aesthetic sophistication. By all means, go play it now if you haven't already. Or, perhaps better said, go live it now.
(Sources: the books Game Design Theory and Practice, second edition, by Richard Rouse III and System Shock: Strategies and Secrets by Bernie Yee; Origin's official System Shock hint book; Origin's internal newsletter Point of Origin from June 3 1994, November 23 1994, January 13 1995, February 10 1995, March 14 1995, and May 5 1995; Electronic Entertainment of December 1994; Computer Gaming World of December 1994; Next Generation of February 1995; Game Developer of April/May 1995. Online sources include "Ahead of Its Time: The History of Looking Glass" and "From Looking Glass to Harmonix: The Tribe," both by Mike Mahardy of Polygon. Most of all, huge thanks to Dorian Hart, Sean Barrett, and Dan Schmidt for talking with me about their time at Looking Glass.
System Shock is available for digital purchase at GOG.com.)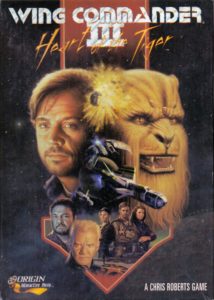 Movies and computer games are my two favorite things. If I weren't doing one I'd be doing the other.

— Chris Roberts
Prior to the release of DOOM in late 1993, Wing Commander I and II and their assorted spinoffs and expansion packs constituted not just the most popular collection of outer-space shoot-em-ups since the heyday of Elite but the most popular computer-gaming franchise of the new decade in any genre.
Upon its release in September of 1990, the first Wing Commander had taken the world by storm by combining spectacular graphics with a secret weapon whose potency surprised even Origin Systems, its Austin, Texas-based developer and publisher: a thin thread of story connected its missions together, being conveyed through the adventure-game style interface that was employed for the scenes taking place on the Tiger's Claw, the outer-space "aircraft" carrier from which you and your fellow fighter pilots flew in a life-or-death struggle against the Kilrathi, a race of genocidal space cats who regarded humans the same way that Earthbound cats do mice. Having seen what their customers wanted, Origin doubled down on the drama in Wing Commander II, which was released in August of 1991; it told a much more elaborate and ambitious story of betrayal and redemption, complete with plenty of intrigue of both the political and the romantic stripe.
After that, the spinoffs and expansion packs had to carry the franchise's water for quite some time, while Chris Roberts, its father and mastermind, brought its trademark approach to a near-future techno-thriller called Strike Commander, which was released after considerable delay in the spring of 1993. It was only when gamers proved less receptive to the change in milieu than Roberts and Origin had hoped that the former turned his full attention at last to Wing Commander III: Heart of the Tiger.
At the time, the game that would eventually be released under that name was already in development, but the company's ambitions for it were much smaller than they would soon become. The project was in the hands of what Robin Todd, a programmer on the project,1 today calls a "small and inexperienced team": "three main programmers with minimal game-dev experience, working cheap." Their leader was one Frank Savage, an Origin-fan-turned-Origin-programmer so passionate about the Wing Commander franchise that his car bore the personalized license plate "WNGCMDR." Had the group completed the game according to the original plan, it would likely have been released as yet another spinoff rather than the next numbered title in the series.
As it was, though, the project was about to take on a whole new dimension: Chris Roberts stepped in to become the "director" of what was now to be Wing Commander III. Having been recently acquired by Electronic Arts, Origin felt keenly the need to prove themselves to their new owners by delivering an unequivocal, out-of-the-ballpark home run, and the third major iteration of their biggest franchise seemed as close to a guaranteed commercial winner as one could hope to find in the fickle world of computer gaming.
Roberts had built his reputation on cutting-edge games that pushed the state of the art in personal-computer technology to its absolute limit; the first Wing Commander had been one of the first games to require an 80386 processor to run at all well, while Compaq had used Strike Commander as an advertisement for their latest Pentium-based computer models. Now, he decided that Wing Commander III ought to employ the latest technological development to take the industry by storm: not a new processor but rather the inclusion of live human actors on the monitor screen — as captured on videotape, digitized, overlaid onto conventional computer graphics, and delivered on the magical new storage medium of CD-ROM. From a contemporary interview with Roberts:
If you wanted to show your hot machine off back in 1990, Wing I was the game to do it. I think that right now we are in a phase where CD-ROM is becoming standard and everyone is getting a multimedia machine, but I don't really think the software is out there yet that truly shows it off. That's what I think Wing III is going to do.

Everyone's been talking about interactive movies, but we hadn't heard of anyone doing it right, so we wanted to go out and do it properly. With Wing III, we tried to apply the production values to an interactive movie that we'd applied on the computer side with the previous Wing Commanders. The goal was, if someone said, "What's an interactive movie?" we'd just hand them the CDs from Wing Commander III and say, "Here, check this out."
In keeping with his determination to make his interactive movie "right," Roberts wanted to involve real film professionals in the production. Through the good offices of the California-based Electronic Arts, Hollywood screenwriters Frank DePalma and Terry Borst were hired; they were a well-established team who had demonstrated their ability to deliver competent work on time on several earlier projects, among them a low-budget feature film entitled Private War. Their assignment now was to turn Roberts's plot outline into a proper screenplay, with the addition of occasional branch points where the player could make a choice to affect the flow of the narrative. After they did so, a Hollywood-based artist turned their script into a storyboard, the traditional next step in conventional film-making.
The thoroughgoing goal was to make Wing Commander III in just the same way that "real" movies were made. Thus a director of photography, assistant director, and art director as well were brought over from the film industry. And then came the hair and makeup people, the caterers, the Hollywood sound stage itself. Origin even spent some $15,000 trying to figure out how to digitize 35-millimeter film prints before being forced to acknowledge that humdrum videotape was vastly more practical.
The one great exception to the rule of film professionals doing what they did best was Chris Roberts himself, a 25-year-old programmer and game designer who knew precisely nothing about making movies, but who nevertheless sat in the time-honored canvas-backed director's chair throughout the shoot with a huge how-did-I-get-here grin on his face. And why not? For a kid who had grown up on Star Wars, making his own science-fiction film was a dream come true.
That said, Wing Commander III was dramatically different from Star Wars when it came to the very important question of its budget: Origin anticipated that it would cost $2.8 million in all. This was an astronomical budget for a computer game at the time — the budgets of the most expensive, most high-profile games had begun to break the $1 million barrier only in the last year or two — but a bad joke by the standards of even the cheapest Hollywood production. Origin made up the difference by not building any sets whatsoever; their actors would perform on an empty sound stage in front of an expansive green screen, with all of the scenery to be inserted behind them after the fact by Origin's computer artists.
Truly sought-after actors would cost far more than Origin had to spend, so they settled for a collection of hopeful up-and-comers mixed with older names whose careers were not exactly going gangbusters at the time, all spiced up with a certain amount of stunt casting designed to appeal to the typical computer-gaming demographic of slightly nerdy young men. At the head of the list, a real catch by this standard, was Mark Hamill — none other than Luke Skywalker himself. If some of his snobby Hollywood peers might have judged his appearance in a computer game as another sign of just how much his post-Star Wars career had failed to live up to popular expectations, Hamill himself, a good egg with both feet planted firmly on the ground, seemed to have long since made peace with that same failure and adopted a "just happy to have work" attitude toward his professional life. Wing Commander III wasn't even his first computer game; he had previously voice-acted one of the roles in the adventure game Gabriel Knight: Sins of the Fathers. He was originally recruited to Wing Commander III for the supporting role of Maniac, one of the player's fellow pilots, who lives up to his name with a rather, shall we say, rambunctious flying style; only late in negotiations did he agree to take the role of Colonel Blair, the player-controlled protagonist of the story.
Joining him were other veteran actors who had lost some of their mojo in recent years, but who likewise preferred working to sitting at home: Malcolm McDowell, best known for his starring roles in the controversial A Clockwork Orange and the even more controversial Caligula during the 1970s; John Rhys-Davies, who had played Indiana Jones's sidekick Sallah in Raiders of the Lost Ark and Indiana Jones and the Last Crusade (he would go on to enjoy something of a late-career renaissance when he was cast as Gimli the dwarf in the Lord of the Rings films); Jason Bernard, a perennial supporting actor on 1970s and 1980s television; Tom Wilson, who had played the cretinous bully Biff Tannen in the three Back to the Future movies. (He replaced Hamill in the role of Maniac — a role not that far removed from his most famous one, come to think of it.)
A more eyebrow-raising casting choice was Ginger Lynn Allen, a once and future porn star whose oeuvre may perhaps have been more familiar to more of Origin's customers than might have admitted that fact to their mothers. (She played Blair's sexy mechanic, delivering her innuendo with enthusiastic abandon: "Are we going to kick in the afterburners here?"; "There's a lot more thrust in those jets than I imagined…")
On the Set with Wing Commander III
---
---

Computer Gaming World magazine would later reveal how much some of these folks were paid for their performances. As the star, Mark Hamill got $153,000 up-front and a guaranteed 1.75 percent of the game's net earnings after the first 175,000 copies were sold; Jason Bernard got a lump sum of $60,000; Malcolm McDowell earned $50,000; Ginger Lynn Allen received just $10,000. (The same article reveals that Origin sought Charlton Heston for the game, but balked at his agent's asking price of $100,000.)
Principal photography lasted most of the month of May 1994, although not all of the actors were present through the whole of filming. "More than 80 experienced film professionals worked up to eighteen-hour days in order to realize Chris Roberts's vision of the final chapter of the Terran-Kilrathi struggle," wrote Origin excitedly in their in-house newsletter to commemorate the shoot's conclusion. "Although always intense and frequently frustrating, the shoot progressed without any major complications, thanks in part to a close monitoring of contracts, budgets, and schedules by resident 'suits' in both Austin and San Mateo." (The latter city was the home of Electronic Arts.) Few to none of the actors and other Hollywood hands understood what the words "interactive movie" actually meant, but they all did their jobs like the professionals they were. In all, some 200 hours of footage was shot, to eventually be edited down to around three hours in the finished game.
The presence of so many recognizable actors on the set, combined with the broader mass-media excitement over multimedia and CD-ROM, brought a parade of mainstream press to the shoot. The Today show, VH-1, the Los Angeles Times, Premiere magazine, the Associated Press, USA Today, Newsweek, Forbes, and Fortune were just some of the media entities that stopped in to take some pictures, shoot some video, and conduct a few interviews. At a time when the likes of DOOM was still well off the mainstream radar, Wing Commander III was widely accepted as the prototype for gaming's inevitable future. Even many of the industry's insiders accepted this conventional wisdom about "Siliwood" — a union of Silicon Valley and Hollywood, as described by Alex Dunne that year in Game Developer magazine:
Ninety years after it first burst onto the scene, cinema is undergoing a renaissance. More than just a rebirth actually, it's really a fusion with computer and video games that's resulting in some cool entertainment: a new breed of interactive, "live-action" games featuring Hollywood movie stars. Such games, like Hell, Under a Killing Moon, and Wing Commander III, are coming out with more frequency, and they're boosting the acting careers of some people in Tinseltown.

As Siliwood comes into its own, the line between games and movies will rapidly fade. Ads in game magazines already look like blockbuster movie ads, and we've begun to see stars' mug shots alongside blurbs detailing the minimum system requirements. Interactive game drama is here, so forget the theater and renting movies — fire up the Intel nickelodeon.
Amidst all the hype, peculiarly little attention was paid to the other part of Wing Commander III, the ostensible heart of the experience: the actual missions you flew behind the controls of an outer-space fighter plane. This applied perhaps as much inside Origin as it did anywhere else. Chris Roberts was a talented game designer and programmer — he had, after all, been responsible for the original Wing Commander engine which had so wowed gamers back in 1990 — but his attention was now given over almost entirely to script consultations, film shoots, and virtual set design. Tellingly, Origin devoted far more resources to the technology needed to make the full-motion video go than they did to that behind the space simulator.
On the other hand, that choice may have been a perfectly reasonable one, given that they already had what they considered to be a perfectly reasonable 3D-simulation engine, a legacy of Strike Commander. Although that game had used VGA graphics only, at a resolution of 320 X 200, its engine had been designed from the start with the necessary hooks to enable Super VGA graphics, at a resolution of 640 X 480, when the time came. And that time was now. No one would be able to say that Wing Commander III's spaceflight sequences didn't look very nice indeed. For its was a full-fledged 3D engine, complete with texture mapping and all the other bells and whistles. As such, it was a major upgrade over the one found in Wing Commander I and II, which had been forced by the hardware limitations of its time to substitute scaled sprites for real 3D models. With Roberts so busy scripting and filming his interactive movie, most of the responsibility for what happened in the cockpit continued to rest on the shoulders of Frank Savage, whose official title was now "game development director."
Wing Commander III was a high-risk project for Origin. Since being acquired by Electronic Arts in September of 1992, they had yet to come up with a really big hit: Strike Commander had, as already noted, under-performed relative to expectations upon its release in the spring of 1993, while the launch of Ultima VIII a year later had been an unmitigated disaster. Under the assumption that you have to swing for the fences to hit a home run — or simply that you have to spend money to make money — Origin and their nervous corporate parent didn't object even when Wing Commander III's budget crept up to $4 million, making it the most expensive computer game ever made by a factor of more than two. Their one inflexible requirement was that the game had to ship in time for the Christmas of 1994. And this it did, thanks to the absurdly long hours put in by everyone; not for nothing would Origin go down in history as the company that largely invented crunch time as the industry knows it today. Programmer Robin Todd:
In retrospect the crunch was vicious, but at the time I had nothing else to compare it to. Everything was a blur during the months before we shipped. At whatever time I was too tired to go on programming, I'd go back to my apartment to sleep. And when I woke up, I'd go back to the office. And that was it. What time of day it was didn't matter. I remember the apartment manager knocking on my door one morning because I was so spaced from working that I'd forgotten to pay my rent for weeks. Sleeping under our desks started as something of a joke, but it quickly became true. There was one designer who wanted to take the evening off for his mom's birthday, and was told that if he did, then he shouldn't bother coming back.

I shared an office with two designers, and during a particularly late evening, one of the them turned to me and said, "If I'm still here when the sun comes up, I quit." And sure enough, we were still there at dawn. He got up and turned in his resignation.

The day the project went gold I tendered my resignation.
At the last minute, it was discovered that the four CDs which were required to contain the game were packed a little too full; some CD-ROM drives were refusing to read them. A hasty round of cuts resulted in a serious plot hole. But so be it; the show went on.
Publicly at least, Chris Roberts himself expressed no concern whatsoever about the game's commercial prospects. "I have a name brand," he said, adopting something of the tone of the Hollywood executives with whom he'd recently been spending so much time. "I am not going to lose money on it." He predicted that Wing Commander III would sell 500,000 copies easily at a suggested list price of $70, enough to bank a tidy profit for everyone — this despite the fact that it required a pricey Pentium-based computer with a fast SVGA graphics card to run optimally, a double-speed CD-ROM drive to run at all.
His confidence was not misplaced. Three major American gaming magazines put Wing Commander III on their covers to commemorate its release in November of 1994, even as features appeared across mainstream media as well to greet the event. Ginger Lynn Allen appeared on Howard Stern's nationally syndicated radio show, while Malcolm McDowell turned up on MTV's The Jon Stewart Show. Segments appeared on Entertainment Tonight and CNN; even Japan's Fuji TV aired a feature story. In short, Wing Commander III married its title of most expensive game ever to that of the most widely covered, most widely hyped computer-game debut in the history of the industry. Within ten months of its release, Next Generation magazine could report that its sales had surpassed Roberts's predicted half a million copies. Once ported to the Apple Macintosh computer and the 3DO and Sony PlayStation consoles, its total sales likely approached 1 million copies.
It doubtless would have sold even better in its original MS-DOS incarnation if not for those high system requirements and its high price. As it was, though, Origin and Electronic Arts were satisfied. The Hollywood experiment had proved a roaring success; Wing Commander IV was quickly green-lit.
---

One of my briefs in articles like this one is to place the game in question into its historical context; another is to examine it outside of that context, to ask how it holds up today, what other designers might learn from it, and whether some of you readers might find it worth playing. This is the point in the article where I would normally transition from the one brief to the other. In this case, though, it strikes me as unfair to do so without at least a little bit of preamble.
For, if it's self-evident that all games are products of their time, it's also true that some seem more like products of their time than others — and Wing Commander III most definitely belongs in this group. There is a very short window of years, stretching from about 1993 to 1996, from which this game could possibly have sprung; I mean that not so much in terms of technology as in terms of concept. This was the instant when the "Siliwood" approach, as articulated by Alex Dunne above, was considered the necessary, well-nigh inevitable future of gaming writ large. But of course that particular version of the future did not come to pass, and this has left Wing Commander III in an awkward position indeed.
Seen from the perspective of today, a project like this one seems almost surreal. At what other moment in history could a complete neophyte like Chris Roberts have found himself behind the camera directing veteran Hollywood talent who had previously worked under the likes of George Lucas and Stanley Kubrick? It was truly a strange time.
The foregoing is meant to soften the blow of what I have to say next. Because, if you ask me whether Wing Commander III is a good game in the abstract, my answer has to be no, it really is not. It's best reserved today for those who come to it for nostalgia's sake, or who are motivated by a deep — not to say morbid! — curiosity about the era which it so thoroughly embodies.
I can hardly emphasize enough the extent to which gaming during the 1990s was a technological arms race. Developers and publishers rushed to take advantage of all the latest affordances of personal computers that were improving with bewildering speed; every year brought faster processors and CD-ROM drives, bigger memories and hard drives, graphics and sound cards of yet higher fidelity. The games that exploited these things to raise the audiovisual bar that much higher dazzled the impressionable young journalists who were assigned to review them so utterly that these earnest scribes often described and evaluated their actual gameplay as little more than an afterthought. Computer Gaming World was the most mature and thoughtful of the major American magazines, and thus less prone to this syndrome than most of its peers. By no means, however, was it entirely immune to it, as Martin E. Cirulis's five-stars-out-of-five review of Wing Commander III illustrates.
They say that every successful person carries within her the seeds of her own destruction. In the same spirit, many a positive review contains the makings of a negative one. After expounding at length on how "simply incredible" the game is, Cirulis has this to say:
I'm afraid I've come to the conclusion that the space-combat aspect of Wing Commander III is almost incidental to playing the thing. The story you are moving through is so interesting and the characters so well-detailed that you almost wish you didn't have to strap into the fighter just to see what happens next. The story line of a Wing Commander game used to be a gimmick to make what was basically a space-combat game seem more interesting, especially to people who weren't dedicated sim pilots; but things have come full circle now, and it's the story that is the point and the flight sim that is the gimmick.

I realize that there will be those who think that I have been blinded by chrome and taken in by pretty pictures and have failed to "critique the game." Well, more power to them.
Another writer — perhaps even one named Martin E. Cirulis at another moment in time — might frame a review of a game whose cut scenes are its most entertaining part rather differently. Sadly, I'm afraid that I have to become that writer now.
---

By the standards of most productions of this nature, the game's cinematic sequences don't acquit themselves too horribly. If you can look past the inherent cheesiness of pixelated human actors overlaid upon computer-generated backgrounds, you can see some competent directing and acting going on. The game's eleven-minute opening sequence in particular shows a familiarity with the language of cinema that eludes most other interactive movies. Throughout the game, there is a notable lack of the endless pregnant pauses, the painful periods where the director seems to have no idea where to point the camera, the aura of intense discomfort and vague embarrassment radiating from the actors that was such par for the course during the full-motion-video era. Likewise, the script shows an awareness of how to set up dialog and use it to convey information clearly and concisely.
I give the film-making professionals who helped Chris Roberts to "direct" his first feature film more credit for all of this than I do that young man himself. (Anyone who has seen the later, non-interactive Wing Commander movie knows that Roberts is no natural-born cinematic auteur.) Rather credit him and the rest of Origin for realizing that they needed help and going out and getting it. This unusual degree of self-awareness alone placed them well ahead of most of their peers.
At the same time, though, the production's competence never translates into goodness. There's a sort of fecklessness that clings to the thing, of professionals doing a professional job out of professional pride, but never really putting their hearts into it. It's hard to blame them; the plot outline provided by Roberts was formulaic, derivative stuff, right down to climaxing with a breakneck flight down a long trench. (Star Wars much, Mr. Roberts?) And the less said the better about the inevitable love triangle, in which you must choose between a good girl and a bad girl who both have the hots for you; it's just awful, on multiple levels.
In cinematic terms, the whole thing is hopelessly stretched in length to boot, a result of the need to give customers their $70 worth. One extended blind alley, involving a secret weapon that's supposed to end the war with the Kilrathi at a stroke, ends up consuming more than a quarter of the script before it's on to the next secret weapon and the next last remaining hope for humanity… no, for real this time. The screenwriters noted that their movie wound up having seventeen or eighteen acts instead of the typical three. Putting the best spin they could on things, they said said that scripting Wing Commander III was like scripting "a little miniseries."
The acting as well is a study in competence without much heart. The actors do their jobs, but never appear to invest much of themselves into their roles; Mark Hamill seems to have had much more fun playing the slovenly Detective Moseley in Gabriel Knight that he did playing the straight-laced Colonel Blair here. Again, though, the script gives the actors so little to work with that it's hard to blame them. The parade of walking, talking war-movie clichés which they're forced to play are all surface on the page, so that's how the actors portray them on the screen. Only Tom Wilson and Ginger Lynn Allen bring any real gusto to their roles. Tellingly, they do so by not taking things very seriously, chewing the (virtual) scenery with a B-movie relish. I don't know whether more of that sort of thing from the others would have made Wing Commander III a better film under the criteria Chris Roberts was aiming for, but it certainly would have made it a more knowing, entertaining one in my eyes.
Instead, and as usual for a Chris Roberts production, the painful earnestness of the whole affair just drags it down. For all its indebtedness to Star Wars, Wing Commander III lacks those movies' sense of extravagant fun. Roberts wants us to take all of this seriously, but that's just impossible to do. The villains are giant cats, for heaven's sake, who look even more ridiculous here than they do in the earlier games, like some overgrown conglomeration of Tigger from Winnie the Pooh and the anthropomorphic chimpanzees from Planet of the Apes.
As is the norm in games of this style, your degree of actual plot agency in all of this is considerably less than advertised. Yes, you can pick the good girl or the bad girl, or reject them both; you can pick your wingman for each mission; you can choose your character's attitude in dialog, which sometimes has some effect on others' attitudes toward you later on. But your agency is sharply circumscribed by the inherent limitations of pre-shot, static snippets of video and the amount of storage space said video requires; it was enough of a challenge for Origin to pack one movie onto four CDs, thank you very much. These limitations mean you can't steer the story in genuinely new directions during the movie segments. The "interactive" script is, in other words, a string of pearls rather than a branching tree; when you make a choice, the developers' priority is to acknowledge it more or less perfunctorily and then to get you back into the main flow of their pre-ordained plot.
The developers did design a branching mission tree into the game, but your progression down it is dictated by your performance in the cockpit rather than by any conscious choices you make outside your spacecraft. Nevertheless, there are some generous touches here, including a heroic but doomed last stand of a mission if the war goes really badly. But Origin knew well by this point that most players preferred to replay failed missions instead of taking their lumps and continuing down the story's "losing" branch, and this knowledge understandably influenced the amount of work they were willing to put into crafting missions which most players would never see; the alleged mission tree in this game is really a linear stream with just a few branching tributaries which either end or rejoin the main flow as quickly as possible. Certainly the most obvious problem with the approach — the fact that the branching mission tree gives less skilled players harder missions so that they can fail even worse after failing the first time, while it gives more skilled players easier missions that might well bore them — is not solved by Wing Commander III.
When it comes to its nuts and bolts as a space simulator, Wing Commander III surprises mostly by how little it's progressed in comparison to the first two games. The 3D engine looks much better than what came before, is smoother and more consistent, and boasts the welcome addition of user-selectable difficulty levels. At bottom, though, the experience in space remains the same; neither the ships you fly nor their weapons load-outs have changed all that much. The engine's one genuinely new trick is an ability to simulate flight over a terrestrial landscape, a legacy of its origins with the twentieth-century techno-thriller Strike Commander. Yet even this new capability isn't utilized until quite late in the game.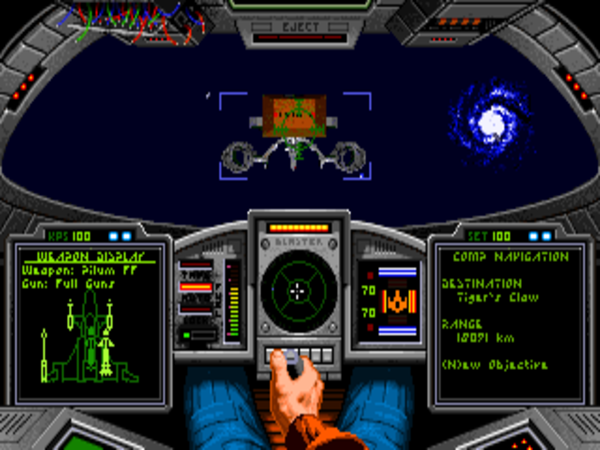 Each of the 50 or so missions which you have to fly before you get to that bravura climax breaks down into one of just a few types — patrol these waypoints, destroy that target, or protect this vessel — that play out in very similar ways each time. There's never much sense of a larger unfolding battle, just a shooting gallery of Kilrathi coming at you. The artificial triggers of the mission designs are seldom well-concealed: reaching this waypoint magically spawns a Kilrathi fighter squadron from out of nowhere, reaching that one spawns a corvette. Meanwhile the need to turn on the auto-pilot and slew your way between the widely separated waypoints within most missions does little for your sense of immersion. Wing Commander III isn't a complete failure as an arcadey space shooter; some players might even prefer its gung-ho, run-and-gun personality to more nuanced approaches. But I would venture to say that even some of them might find that it gets a little samey well before the 50 missions are complete. (Personally, I maintain that the first Wing Commander, which didn't stretch itself so thin over so many missions and which was developed first and foremost as a compelling action game rather than an interactive movie, remains the best of the series from the standpoint of excitement in the cockpit.)
Looking back on 1994 from the rarefied heights of 2021, I find that Wing Commander III's weaknesses as both interactive movie and space simulator are highlighted by the strengths of a contemporary competitor in both categories.
In the former category, we have Access Software's Under a Killing Moon, which was released almost simultaneously with Wing Commander III; the two games were often mentioned in the same breath by the trade press because each packed four CDs to the bursting point, giving each an equal claim to the title of largest game ever in terms of sheer number of bytes. Under a Killing Moon was a more typical early full-motion-video production than Wing Commander III in many ways, being a home-grown project that utilized the talents of only a few hired guns from Hollywood. But, for all that the actors' performances and the camera work often betray this, the whole combines infectious enthusiasm — "We're making a movie, people!" — with that edge of irony and humor that Chris Roberts's work always seems to lack. If Wing Commander III is the glossy mainstream take on interactive cinema, Under a Killing Moon is the upstart indie version. It remains as endearing as ever today, one of the relatively few games of its ilk that I can unreservedly recommend. But then, I do tend to prefer the ditch to the middle of the road…
In the realm of space simulators, we have LucasArts's Star Wars: TIE Fighter, which shipped about six months before Wing Commander III. Ironically given its own cinematic pedigree, TIE Fighter had no interest in Hollywood actors, love triangles, or even branching mission trees, but was rather content merely to be the best pure space simulator to date. Here you can't hope to succeed as the lone hero charging in with guns blazing; instead you have to coordinate with your comrades-in-arms to carry out missions whose goals are far more complex than hitting a set sequence of waypoints, missions where dozens of ships might be pursuing individual agendas at any given time in dynamic unfolding battles of awesome scale. It's true that TIE Fighter and its slightly less impressive predecessor X-Wing would probably never have come to exist without the example of the Wing Commander franchise — but it's also true that LucasArts had well and truly bettered their mentors by the time of TIE Fighter, just their second attempt at the genre.
---

And now, reading back over what I've written, I see that I've been as unkind to Wing Commander III as I'd feared I would. Therefore let me say clearly now that neither half of the game is irredeemably bad; I've enjoyed action and simulation games with much more hackneyed storytelling, just as I've enjoyed narrative-oriented games whose writing and aesthetics are more interesting than their mechanics. The problem with Wing Commander III is that neither side of it is strong enough to make up for the failings of the other. Seen in the cold, hard light of 2021, it's a poorly written low-budget movie without any vim and vinegar, married to an unambitious retread of a space shooter.
But in the context of 1994, of course, it was a very different story. The nerdy kitsch that most of us see when we look at the game today in no way invalidates the contemporary experiences of those who, like Computer Gaming World's Martin E. Cirulis, looked at it and decided that "we are witnessing the birth of something new." The mid-1990s were a period of tremendous ferment in the world of computing, with new possibilities seeming to open up by the month. Wing Commander III is, whatever else it may be, a reflection of that optimistic time, as it is of the spirit of its wide-eyed creator and its hundreds of thousands of players who were not all that different from him, who came to it ready and willing to be wowed by it. Its unprecedented budget alone made a powerful statement, being tangible proof that computer gaming was becoming a big business that everyone in media had to take seriously.
Created in the best of faith and with the noblest of intentions to move gaming forward, Wing Commander III seemed like a dispatch from the future for a brief window of time. In the long run, though, the possible future it came from was not the one that its medium would wind up embracing, leaving it stranded today on an island of its own making. Such is sometimes the fate of pioneers.
Some Scenes from the Film
---
Malcolm McDowell plays Admiral Tolwyn. With commanding officers like these, who needs Kilrathi?
Courtney Gains plays Lieutenant "Radio" Rollins; imagine Radar from M*A*S*H with an attitude problem.
Tom Wilson, the only comic actor in the troupe, plays Maniac with a weirdly endearing mixture of bravura and insecurity.
Jason Bernard plays Captain Eisen. Like many of the performances, his is neither really good nor really bad. It's just kind of there.
Ginger Lynn Allen plays Rachel, Blair's mechanic and potential love interest. The scriptwriters love to sprinkle her dialog with not-so-subtle innuendo, and the actress loves to deliver it.
B.J. Jefferson plays Cobra, a character who's even more one-note than most of them. She really, really hates Kilrathi. (The Hobbes who's being discussed is a Kilrathi defector who now flies for the human side.)
---

(Sources: The books Origin's Official Guide to Wing Commander III and Wing Commander III: Authorized Combat Guide; Computer Gaming World of September 1994, December 1994, and February 1995; Game Developer of February/March 1005 and June/July 1995; CD-ROM Today of August/September 1994; Next Generation of November 1995; Origin Systems's internal newsletter Point of Origin of May 6 1994, June 3 1994, July 15 1994, September 9 1994, October 7 1994, November 23 1994, January 13 1995, February 10 1995, March 14 1995, April 7 1995, and May 3 1995. Online sources include the Wing Commander Combat Information Center's treasure trove of information on the game. And thank you to Robin Todd for sharing with me her memories of working on Wing Commander III, crunch time included.
Wing Commander III is available today as a digital purchase at GOG.com.)
---
Robin Todd was living as Chris Todd at the time, and is credited under that name in the game's manual. ↩